Huawei, ZTE, and Chinese Investment in the U.S.
Plenty of Chinese companies are investing in the U.S.
By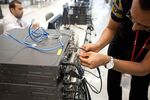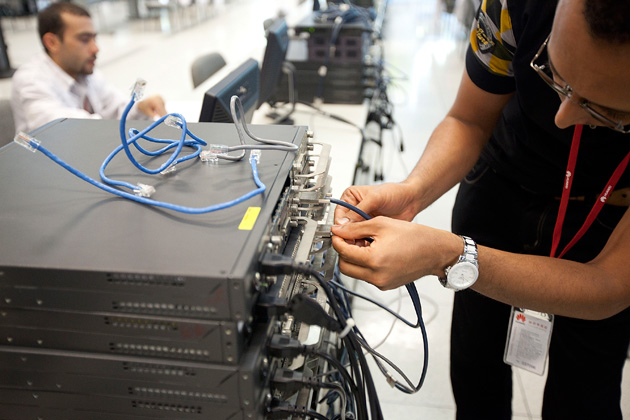 Reading the news recently, one might think that the U.S. was slamming the doors on Chinese trade and investment. First was Washington's Sept. 17 trade complaint to the World Trade Organization, claiming China subsidizes autos and auto parts. Then on Sept. 28, President Barack Obama announced he was blocking a Chinese company from building wind turbines near a Navy military facility in Oregon, the first time a president has blocked a foreign investor over national security concerns in 22 years.
Now the latest: a congressional report released Oct. 8, alleging that China's two largest telecom equipment manufacturers, Huawei Technologies and ZTE, are a security threat and should be blocked from acquiring U.S. companies. "Based on available classified and unclassified information, Huawei and ZTE cannot be trusted to be free of foreign state influence and thus pose a security threat to the United States and to our systems," says a draft of the report from the House Intelligence Committee's chairman, Michigan Republican Mike Rogers, and Maryland Democrat C.A. "Dutch" Ruppersberger.
In addition, evidence of illegal activity by Huawei, including bribery and corruption and immigration violations, was unearthed, and will be referred to the departments of Homeland Security and Justice, according to the report that was one year in the making; both Chinese companies testified before the committee. The report also criticized them for not providing detailed information about their relationship with Chinese authorities. "Private-sector entities in the United States are strongly encouraged to consider the long-term security risks associated with doing business with either ZTE or Huawei for equipment or services," the report says.
The companies have responded strongly. Suggestions "that Huawei is somehow uniquely vulnerable to cyber mischief ignore technical and commercial realities, recklessly threaten American jobs and innovation, do nothing to protect national security, and should be exposed as dangerous political distractions," William Plummer, a Washington-based spokesman for Huawei, said in an e-mail to Bloomberg News.
Huawei, which is headed by a former member of China's military, employs about 1,700 people in 14 U.S. offices, and had $1.3 billion in U.S. revenue last year, up from $765 million in 2010, said Plummer in an earlier telephone interview, on Sept. 20. In addition, Huawei sourced about $6.6 billion in parts from American companies last year, Plummer said. Huawei has already had to back away from business in the U.S. when confronted with security concerns, including a planned bid to buy network gear maker 3Com in 2008.
"Everyone understands that there is tension between major powers. There always has been and always will be," said Plummer in the earlier interview, before the committee's announcement. "But it's no surprise" that Huawei's chief executive officer met with U.K. Prime Minister David Cameron in September to announce a $2 billion investment in R&D facilities and procurement in that country over the next five years, Plummer said, noting favorably what he called the U.K.'s "pragmatic" approach to balancing security concerns and investment decisions.
"We are confident that no Chinese company has ever cooperated as comprehensively as ZTE has with any U.S. congressional inquiry," ZTE wrote in a letter it sent the House committee in late September and that the Chinese company released on Oct. 8. "ZTE profoundly disagrees with any suggestion that the company is directed or controlled by China's government. And ZTE categorically rejects any suggestion that ZTE could be importuned by anyone to undermine our customers' telecom infrastructure networks." Added spokesperson David Dai in an e-mail statement on Oct. 8: "ZTE's equipment is safe."
Despite the brouhaha, don't expect security concerns to derail fast-growing Chinese investment in the U.S., says Thilo Hanemann, research director at the New York-based China-focused consultancy Rhodium Group. Cash-rich Chinese companies are still eager to tap U.S. technology and brands, get access to the skilled American workforce, and take advantage of relatively cheap U.S. assets, he says. Indeed, China is on track to invest up to $8 billion in the U.S. this year, in energy projects, aviation companies, and other projects, including a $2.6 billion deal to buy the AMC theater chain, setting a new record high. By 2020, accumulated Chinese investment could reach as high as $200 billion, employing 400,000 Americans, Hanemann says.
And while security issues have attracted attention, particularly in a U.S. presidential election year, the vast majority of Chinese investments are still unaffected, says Hanemann. Very few, for example, ever get referred to the Committee on Foreign Investment in the U.S., the interagency investment review panel chaired by the Department of Treasury, and even fewer get rejected.
"If you look at Chinese investment over the last two years, there have been many deals in sectors that no one thought would get approved. There have been deals in power generation, in energy including shale gas, in property, and in aviation. It is a fair assessment to say the U.S. is very open," says Hanemann, while acknowledging that the telecom sector will likely continue to be "problematic."
By contrast, still tight restrictions by Beijing, which require approvals for many overseas Chinese investments and limit how much currency can be transferred abroad, are an even bigger obstacle, he says: "The official rhetoric [in China] is that foreign governments block Chinese companies from investing in their economies. But those domestic political obstacles are just as serious a problem."
Before it's here, it's on the Bloomberg Terminal.
LEARN MORE