BAE and EADS: A Deal Looks Doubtful
U.S. fears buying arms from a company partly owned by France and Germany
By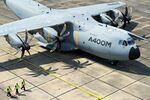 A European plan to create the world's largest aerospace group appears on the brink of collapse, a victim of cross-border political jockeying.
The plan to merge the European Aeronautic Defence & Space Co. with Britain's BAE Systems has run into opposition from Germany, which fears being marginalized by France and Britain in managing the combined group. "It seems unlikely they'll get an agreement on the table" before an Oct. 10 deadline for the plan to be submitted to British regulators, Zafar Khan, an aerospace analyst at Société Générale in London, told Bloomberg News on Oct. 8.
France and Britain have already signed off on the deal, which would place the merged group's headquarters in Toulouse, France, with defense operations run out of London. EADS Chief Executive Thomas Enders, who is German, has been lobbying in Berlin for the tie-up, but Angela Merkel's government is balking, people close to the discussions told Bloomberg News.
EADS's ownership and management have been delicately balanced between French and German interests since the group was created in 2000. Britain has said it would not object to France and Germany each holding a 9 percent stake in the new company, while the British would maintain a so-called golden share allowing it to veto any change in ownership.
Such an arrangement could create new problems, though. The Pentagon is now the biggest customer of BAE Systems, which runs its U.S. defense operations from a separately held subsidiary. Direct French and German government ownership of the proposed new company, by contrast, could run afoul of U.S. controls on sharing secret technologies with foreign-owned companies. The merger "would materially jeopardize BAE's unique and privileged position in the U.S. defense market," the British group's largest investor, fund management outfit Invesco in London, warned in a statement on Oct. 8. Invesco, which owns 13 percent of BAE, said it "does not understand the strategic logic for the proposed combination."
Other investors are worried, too. Shares of both companies have fallen more than 15 percent since the merger talks were confirmed last month.
While the companies could seek an extension to the Oct. 10 regulatory deadline, Société Générale's Khan says they'd be better off walking away. The deal "doesn't make sense," he says.
Before it's here, it's on the Bloomberg Terminal.
LEARN MORE