MBA Journal: Crossing the Pond
Nupur Sharma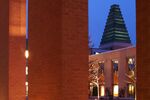 After much deliberation, I have come to a decision on where to earn my MBA. Drumroll please … Oxford's Saïd Business School! Although I drink my wine with my pinkie in the air, I never imagined that I would be moving to England and going to Oxford for B-school, but I couldn't be happier with my decision. Studying for the GMAT, taking the GMAT, studying for the GMAT again, taking the GMAT again, researching business school programs, visiting campuses, applying, all while working a full-time job, traveling for work, holding a board position for a nonprofit, and trying to have a social life was hairy to say the least.
But let's take a step back.
I graduated from UC-San Diego with a double major in management science and political science in 2007. Soon after, I began working as a management consultant with Accenture. For the last five years I have been working primarily with high-tech clients. However, most recently I have been working with an NGO client to further explore my interest in nonprofits.
Consulting gave me the excitement and challenge of learning different industries, understanding how different Fortune 100 companies work, and applying the "do-whatever-it-takes-to-figure-it-out" attitude for every problem. Despite the constant stimulation, I knew I wasn't done with education and would at some point seek an additional formal learning experience. Although changing projects and clients provided variety to my work, my expertise with change management started to become too narrow for comfort. I want to be the Jane of all trades and currently lack a solid foundation in many areas outside my expertise such as finance and marketing. I am confident that an MBA is the missing puzzle piece.
I was focused on U.S. institutions until a friend (who was already in business school) lectured me to expand my horizons and look into Saïd. Through research, I discovered Oxford had many alluring traits, including a condensed one-year full-time program, a population in which 95 percent are international students, the Skoll Center for Social Entrepreneurship and forums, not to mention some awesome old-school traditions.
Where do I pick up these Harry Potter robes you speak of? Oxford is one of the oldest universities in the world and has taught a breadth of politicians, writers, artists, royalty, and more, yet it has a relatively young business school. Old school and new school—literally! I feel both honored and super stoked to attend such an amazing institution. I am looking forward to studying, networking, exploring, and maybe even joining a rowing team. Stay tuned; it's going to be fun!
Between journal entries, you can keep track of Nupur's business school adventures at the Business Schools Facebook page. Follow the Bloomberg Businessweek B-schools team on Twitter.
Before it's here, it's on the Bloomberg Terminal.
LEARN MORE