Jobless Rate Falls to Lowest Since Obama's Inauguration
By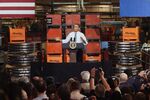 The U.S. unemployment rate fell to 7.8 percent in September, the lowest since January 2009, the month that President Barack Obama took office in the teeth of a fierce recession. The sharp drop in the widely watched indicator–from 8.1 percent in August–came as a boost to Obama's re-election campaign just two days after a weak debate performance against his challenger, Republican Mitt Romney.
The news was positive enough that former General Electric Co. CEO Jack Welch accused the Obama Administration, via Twitter, of changing the numbers. That is a serious allegation because the Bureau of Labor Statistics prides itself on its political independence and prepares the monthly numbers in secrecy, walled off from political appointees. Tony Fratto, who was a spokesman for former President George W. Bush, responded with a tweet of his own: "BLS is not manipulating data. Evidence of such would be a scandal of enormous proportions & loss of credibility."
Stocks rose slightly after the report while bond prices fell. Bond investors apparently concluded that the report might signal higher inflation on the way, or a weakened commitment by the Federal Reserve to keep bond prices high and yields low.
Payroll growth in September was less impressive than the drop in the unemployment rate. Payrolls increased by 114,000, in line with expectations.
Through August, unemployment had been above 8 percent for 43 straight months, the longest such streak since record keeping began in 1947. Getting below 8 percent–even if by only a little–could help Obama make the case that his efforts to revive the economy are working. Since World War II, only President Ronald Reagan has been re-elected with unemployment above 6 percent. In 1984, the jobless rate was 7.2 percent on Election Day, having fallen almost 3 percentage points in the previous year and a half.
Including the latest drop, the unemployment rate has fallen by 1.3 percentage points since August of 2011. "I think it's for real. I think we're having legitimate improvement," said James Paulsen, chief investment strategist at Wells Capital Management in Minneapolis. He added: "It's certainly not enough to please anybody."
A falling unemployment rate isn't always a sign of good health in the labor market. Sometimes a decline occurs because people have dropped out of the labor force and are no longer counted as unemployed. But in this case, the decrease occurred because of a big jump in the number of people who were counted as employed. A survey of U.S. households recorded an employment increase of 873,000, which was the biggest since June 1983, excluding annual adjustments that sometimes produce big corrections.
The monthly employment report is really two reports in one. The household survey, which is used to calculate the unemployment rate, is the one that measured an 873,000 employment increase. A survey of establishments is the one that produces the monthly payroll figure, which was 114,000. Theoretically the two numbers should track one another, but they often don't. While the smaller payroll figure is generally considered more reliable, an increase of 873,000 in the household survey is so big that it can't easily be dismissed.
There were other positive indications in the jobs report. The Bureau of Labor Statistics revised upward its estimate of the July payroll increase to 181,000 from 141,000, and revised the August estimate to 142,000 from 96,000. Also, average hourly earnings climbed 0.3 percent, to $23.58.
There were some weak signs, too: Private payrolls, excluding government agencies, rose by just 104,000 in September, below the 130,000 expected by economists surveyed by Bloomberg. Also, manufacturing employment fell by 16,000, following a 22,000 decrease in August. Health care, which is government subsidized, was one of the big contributors to private-sector job gains, adding 44,000 jobs. Alan Tonelson, a research fellow at the U.S. Business and Industry Council, calculates that "government-related activities" generated more than half of the net new jobs in September.
The share of the population with jobs–which is known as the employment-population ratio, and is often cited by Federal Reserve Chairman Ben Bernanke–rose to 58.7 percent from 58.3 percent. In 2006 it was over 63 percent, so there's a long way to go.
Before it's here, it's on the Bloomberg Terminal.
LEARN MORE