Is Quebec's Stolen Maple Syrup Stashed in Stomachs?
By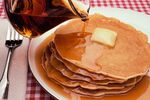 It could be a sweeter Thanksgiving in Quebec this Monday, now that investigators have found a cache of maple syrup in New Brunswick that might solve a $30 million heist. Police escorted more than 600 barrels of the suspicious stuff back to Quebec on Oct. 3. That's a lot more protection than was provided by the fence and locks on the warehouse in Saint-Louis-de-Blandford, where the syrup had originally been stored. But it's also a much smaller load than the 15,000 barrels that were apparently found emptied during a routine check.
While there's no word yet on whether the stash in Kedjwick, New Brunswick, was siphoned from the Quebec facility, the fact that it was bound for export may explain the motivation behind the theft. With U.S. production of maple syrup down by almost a third this year (PDF), to 1.91 million gallons, according to the Department of Agriculture, the pilfered product would have met strong demand south of the border. The pancake topper already fetches $60 a gallon or more, making Quebec's abundant reserves a rich target. Canada's francophone province accounts for about three-quarters of the planet's output, making it the Saudi Arabia of maple syrup.
No wonder the Federation of Quebec Maple Syrup Producers (FPAQ), which represents some 13,500 producers, maintains "global strategic maple syrup reserves" to keep their coffers flowing in good times and bad. How they've guarded those reserves has come under scrutiny, since more than a quarter of the total went missing. The question now is whether the New Brunswick find leads to the rest of the stolen syrup, or if it indicates most of the stash has already disappeared into stomachs worldwide. Federation officials aren't saying much more for now. As spokeswoman Caroline Cyr explains: "We don't want to disturb the investigation and are cooperating with the police."
The hope is to at least identify the network that pulled off the labor-intensive heist, even if the total supply isn't recovered. Once the culprits are found, Cyr promises, the entire tale will be told—perhaps over brunch.
Before it's here, it's on the Bloomberg Terminal.
LEARN MORE