Anne-Marie Slaughter Hits the Lecture Circuit
By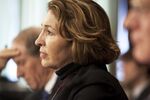 The July/August issue of the Atlantic magazine was designed to cause a stir: "Why Women Still Can't Have It All," a cover story by Anne-Marie Slaughter, came packaged with a provocative image of a baby in a briefcase and targeted professional women exactly at the point where their hottest obsession meets their deepest source of guilt. The article prompted a heated debate about why more women aren't in positions of power and influence and about the struggles of balancing high-powered careers with having a family. There were blog posts and newspaper editorials, television appearances, and Tweets galore. Slaughter promptly signed a book contract with Random House. And the women's-issues industrial complex is just getting started.
In what is possibly the shortest time on record between a published magazine article and paid guru-dom, Slaughter, a professor at Princeton and former director of policy planning for the State Department, is making the lecture-circuit rounds, imparting the insights she gained to hundreds—possibly thousands—of women. In September, she appeared at the Women: Inspiration and Enterprise Symposium ("a dynamic conference designed to inspire and empower women") at the New School in New York, alongside former U.K. first lady Cherie Blair, Gilt Groupe Chairman Susan Lyne, and the actress Geena Davis. The following week was the Economist's Ideas Economy: Human Potential event (exploring "fundamental issues affecting personal and professional life"). Also on the agenda is the BSR Conference in late October (providing the "practical learning experiences, inspiration, and interaction you need to achieve even more over the next 20 years"). There are sure to be many more.
The incredible demand Slaughter has seen for her wisdom hints at just how desperate women are for someone to help them grapple with the daunting task of keeping their careers alive after they have kids—and since the ideal "balance" is nearly impossible to achieve, the demands for such services is limitless.
On Thursday, Slaughter spoke at Credit Suisse in New York, at an event sponsored by the financial firm's Working Mother's network. To a packed auditorium of slickly dressed Credit Suisse executives, almost all of them women, Slaughter described the reaction she'd gotten to her article—a "tsunami"—and explained why she'd felt compelled to write it in the first place. She outlined the aspects of American workplace culture that she feels must change to accommodate more women—"flexibility isn't just important, it's indispensible"—and argued for a rethinking of the typical career trajectory and attitudes toward working parents. She said that women came up to her all the time and told her they'd cried when they read her article. The women in the audience stared and nodded with rapt attention.
The atmosphere at the reception afterwards was electric, as if a modern-day Norma Rae had just leaped onto her trading desk and empowered everyone to save their spreadsheets and waltz out the door with their heads held high. Of course, to clink wine glasses with Slaughter and glean further tips for achieving work-life-balance, many of the women had to text their husbands and nannies to let them know they were running late.
Before it's here, it's on the Bloomberg Terminal.
LEARN MORE