Olga Vidisheva, Business Model
A former financial analyst with a runway past launches an online boutique marketplace
By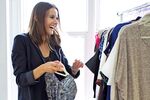 As a financial analyst covering tech, media, and telecommunications companies, Olga Vidisheva used to sleep on the hard floor next to her cubicle in Goldman Sachs's New York headquarters. "My friends gave me a pillow one year," she says. She also kept a toothbrush and a change of clothes, and nibbled on Sour Patch Kids when she got hungry. From 2007 to 2009, Vidisheva fulfilled what she describes as a "childhood dream" of becoming a banker. "My job at Goldman was 24/7," she says. "You didn't get too much sleep, but you loved every moment of it."
The fast-talking 27-year-old moved to the U.S. from Russia at age 17 and supported herself by waitressing at a Japanese restaurant in Santa Fe, N.M. After she was discovered by a modeling agency, Vidisheva paid her way through Wellesley College by streaming down catwalks and posing for ads—including a campaign for a vacuum cleaner. "That job paid the best!" she says, laughing. "I still sometimes see it. I looked like a housewife in white hockey pants."
Eventually, Vidisheva wanted to strike out on her own and capitalize on her knowledge of fashion. When she left Goldman, she enrolled at Harvard Business School. A trip to Paris inspired her to launch Shoptiques.com, which sells shoes, bags, and other wares from boutiques in the U.S. With $2 million in investment, including funding from Y Combinator, she launched the site this spring. The nine-person company currently has 160 participating boutiques, which share revenues with Shoptiques; by yearend Vidisheva expects to have more than 200, including some in Paris.
OLGA'S BEST ADVICE
1. Crisscross your legs in photos. If you're standing, put one leg in front of the other. It's more flattering—unless you're a man.
2. But don't just stand there. I heard a lot of no's in modeling and in business. You have to trust your gut. It's a vital part of success.
Before it's here, it's on the Bloomberg Terminal.
LEARN MORE