MBA Alumni in the News: Oct. 4
Louis Lavelle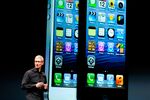 Each week Bloomberg Businessweek brings you an update on how MBA alumni from top business schools are making news—the good, the bad, and the ugly. This week, graduates from Harvard, INSEAD, Duke, and Fordham were among those making headlines.
Oops: Apple Chief Executive Tim Cook, an MBA graduate from Duke University's Fuqua School of Business, apologized for the mapping software that shipped with the new iPhone 5. The software, Maps, has been criticized for unreliable turn-by-turn directions, inaccurate landmark locations, and a lack of public transit directions.
Heads Will Roll: Kodak CEO Antonio Perez, an MBA graduate of INSEAD, is planning to cut 200 additional jobs as part of the company's plan to end inkjet printer sales next year. The cuts are on top of 3,700 announced earlier this year. Perez has been selling businesses to fund a turnaround after seeking bankruptcy protection in January.
Milestone for New Drug: The chief executive of Evotec and MBA graduate from Harvard Business School, Werner Lanthaler, said the first patient will soon start a trial of the company's experimental Alzheimer's drug.
Volvo Exec Takes Leave: Volvo Car CEO Stefan Jacoby, an MBA graduate from the University of Cologne, suffered a "mild stroke," the company announced. Jacoby, 54, is expected to be on sick leave for about a month.
A Customer Perk: Scott Griffith, the chief executive of Zipcar and an MBA graduate of the University of Chicago's Booth School of Business, said the company may implement a loyalty program for frequent users as early as next year.
Debt Addict: Bill Gross, who runs the world's biggest bond fund at Pacific Investment Management Co., said the U.S. needs to close the gap between spending and debt or risk inflation and the decline of the dollar, among other things. The 1971 MBA graduate from UCLA's Anderson School of Management, used some colorful language in his monthly investment outlook, comparing the U.S. with a drug addict "whose habit extends beyond weed or cocaine and who frequently pleasures itself with budgetary crystal meth."
R.I.P.: Frederic Lexow II, the former JPMorgan trading chief and a 1993 graduate of the MBA program at Fordham, died. He was 49. James Burke, the 1949 Havard MBA graduate who guided Johnson & Johnson through the 1982 Tylenol crisis and become a widely emulated model for corporate crisis managers, died at 87.
Moving Up: Yahoo CEO Marissa Mayer hired Ken Goldman, a 1974 graduate of Harvard Business School, as chief financial officer. The tech industry veteran succeeds Tim Morse. Deutsche Bank strategist Gerald Lucas, an MBA graduate of the Wharton School, was hired by Brevan Howard Asset Management, a $36.7 billion hedge fund.
Moving Out: With shares down 73 percent this year, RadioShack replaced CEO James Gooch. The MBA graduate of Northwestern University's Kellogg School of Management was replaced on an interim basis by the company's chief financial officer, Dorvin Lively.
Join the discussion on the Bloomberg Businessweek Business School Forum, visit us on Facebook, and follow @BWbschools on Twitter.
Before it's here, it's on the Bloomberg Terminal.
LEARN MORE