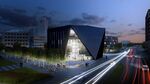 Next Monday, the Cleveland's Museum of Contemporary Art will officially move into its new $27.3 million home on Euclid Avenue. Designed by Iranian-born and London-based architect Farshid Moussavi, the sophisticated, gem-shaped museum reminds visitors that Cleveland can still build the kinds of flashy cultural toys associated with bigger, wealthier cities.
MOCA Cleveland may make the loudest design statement, but it's far from the only symbol of bold, 21st century urbanism in the University Circle neighborhood.
The neighborhood has seen a diverse set of investments, including high density residential projects, new medical facilities and academic buildings, even multiple public transit initiatives. University Circle now stands out as a diverse hub of activity in a city clamoring for such things.

Anchored by a stop along the RTA's HealthLine, a bus rapid transit route that connects East Cleveland to downtown, the Uptown Development Project is a new mixed-use development with apartments and retail. Most importantly, the development gives the former food desert a full-scale supermarket. Constantino's Market opened earlier this year on the ground floor of Uptown Development, thanks in part to a "Healthy Food Financing" grant from the Department of Health and Human Services.
Blessed by a significant cluster of university, medical, cultural, and transit facilities, it is in a fortunate position to generate private sector development (the neighborhood has grown to support around 3 million visitors, 50,000 jobs and 10,000 residents) that many surrounding communities still cannot since losing their industrial base in the last century.

In fact, it's understood by most locals that once you've reached the railroad underpass and the "Gas USA" station just before E 123rd, you've gone too far for your own good. When I visited earlier this year, my friend, a University Circle resident, insisted we turn around once we reached the underpass. On the walk back, he regaled me with a series of crime stories passed around among his Case Western peers.
It's a jarring realization, particularly when you pass the colorful collection of new luxury town homes near the ominous "border" called Circle 118. They are separated by only a light rail station from 27 Coltman, a similar new housing complex. Past the Gas USA however, a cemetery, empty lots, and deteriorating homes begin to tell the more familiar story of urban life in Cleveland.

, a recent luxury housing development in University Circle. Photo by Mark Byrnes.
Besides downtown's recently reported housing shortage, University Circle's success feels more of an anomaly than a sign of things to come. Population loss is the norm to the immediate north, east, and west of University Circle. Few cities in America have lost more people since the 1960s than Cleveland, with an overall drop of 17 percent in the last ten years.
But that is not to say that University Circle's evolution is in vain. In many ways it's a Rust Belt planner's dream of a modern-day economic hub centered around eds, meds, and an exhaustive collection of cultural facilities. Some examples:
Case Western maintains its high-ranking reputation around the country, emphasized a decade ago with the opening of a new business school designed by Frank Gehry. It has has also experienced one of the largest growths in endowment (393 percent) of any university in the last 20 years.
Medical-related businesses continue to see growth with the nearby Seidman Cancer Center as part of University Hospitals. Tech incubators like BioEnterprise, launched as a collaboration between the Cleveland Clinic, University Hospitals Health System, Case Western, and the Summa Health System, help generate economies of scale around its major employers. 
Some of the city's best public transit connections can be found in the immediate area. The HealthLine, hosting multiple stops in the neighborhood, serves as a model for cash-strapped cities looking for better public transit along its major corridors. Last month, reconstruction began at Cedar - University station and plans are in place for a new station at Mayfield and E 119th. It will replace the current station on Euclid and E 120th, bringing riders closer to places like MOCA and Little Italy and further from Gas USA.
A promotional video for MOCA's now sold-out opening night ceremonies this weekend.
Before next Monday's official opening, MOCA Cleveland patrons will celebrate inside the new museum Saturday night, acknowledging the new era that the museum and its eye-catching home are about to embark on. For University Circle, it's merely one piece of a neighborhood that keeps impressing in a city that, for the most part, still struggles to fight off its decline.
Top image: A rendering of the new MOCA Cleveland building, courtesy the museum.