Roubini: The Perma-Piñata
by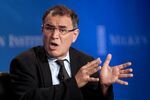 Nouriel Roubini: "As the housing sector slumps, the job and income and wage losses in housing will percolate throughout the economy. … This is the tipping point for the U.S. consumer and the effects will be ugly. Expect the great recession of 2007 to be much nastier, deeper and more protracted than the 2001 recession."
—Rex Nutting: "Recession Will Be Nasty and Deep, Economist Says; Housing Is in Free Fall, Pulling the Economy Down with It" MarketWatch, Aug. 23, 2006
Consider 2006.
The chairman of the Federal Reserve System defended himself in Indiana the other day—in 2012, six years on. (It's like Ten Years After without that guitar.) After being the designated piñata, Ben Bernanke has had enough.
Battle-scarred, then and now, Nouriel Roubini, tenured professor at the University of the Old World, has the chairman beat by a country kilometer.
Roubini has been so thunderously right for so thunderously long as to defy thunderous description. Whether Greece (If it's too big to fail, it's too big to fail) or QE3, QE4, QE5, the NYU academic has defined, predicted, and summed up our macro collapse and our micro defeats.
His critics are legion. Now, worn out from swinging at the collective piñata—and finally silenced—they still advance. Roubini continues to work: considering France, less Spain, undaunted.
In the distance, I hear thunder. To our advantage, Roubini is the perma-piñata. Discuss.
Before it's here, it's on the Bloomberg Terminal.
LEARN MORE