A Chocolate Bar for Women: At Least It's Not Wrapped in Pink
by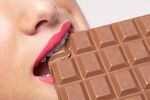 It's been a busy week at Cadbury. On Monday, its owner/parent split in two, so now Cadbury is part of the awkwardly named Mondelēz International. And Cadbury is introducing its first new chocolate brand in the U.K. since the 1990s, which it's calling Crispello. But it's not just any new candy: Crispello is a chocolate bar for women.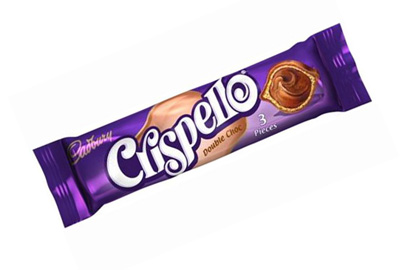 Are you wondering why women need their own chocolate bar? Me too. Well, turns out Crispello isn't actually a bar, it's "three curved crispy wafer shells, each one filled with a smooth creamy center, dipped in Cadbury milk chocolate," according to a statement from the company. Together, the three pieces have 165 calories. But, as of Oct. 8, they'll be sold in a resealable pack to help women who just want to eat one at a time. Here's what a Cadbury spokesman (who was unavailable today) told the Daily Mail: "The mix of wafer and chocolate is a lighter way to eat chocolate, and we know from experience that women are attracted to this particular format. It will also appeal to women, because it is in three separate portions so they can consume a little at a time rather than in one go."
I'm sorry, did the spokesman just tell women how to eat chocolate? "That is a bit of a no-no," says Joan Steuer, who makes a living telling companies how to market chocolate. "Women have an emotional relationship with chocolate, it's the most emotional food on the planet. We don't need to be told what to do with our chocolate. We'll do the opposite."
Portion control, even for chocolate, isn't the problem. (Who can argue with Ferrero Rocher's package of three gold-foiled bon bons?) It's the idea that only women care about it that's the problem. "It's offensive," says B.L. Ochman, a social media consultant who looked into the backlash against Bic's Pen For Her. (Bloomberg Businessweek's slide show of needlessly gender-specific products is here.) "Products aimed at women always seem to treat women more like children than thinking adults," says Ochman. "Some of it will depend on the packaging and approach, whether it's lighthearted or serious. You could have fun with it, but I doubt they will."
Cadbury plans to spend about $11 million to introduce Crispello in the U.K., where it will be marketed under the tagline "a little treat for you." At least the packaging won't be pink. It will be Cadbury's now-exclusive purple. "I think they're using the graphics rather than color to speak to women. It's attractive, not girly," says David Vinjamori, the author of Accidental Branding. "I might try it."
Before it's here, it's on the Bloomberg Terminal.
LEARN MORE