Watch Joe Biden, Earn New Halo Armor
By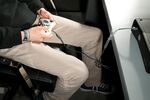 Every now and then, a phrase in a press release will jump right out and poke you in the eye. Case in point: "Election 2012 Hub on Xbox Live."
Yes, indeed, Microsoft has decided to unite the worlds of politics and video games in a single place, placating an audience that no one knew existed. Starting on Wednesday, subscribers of Microsoft's Xbox Live service will be able to stream the presidential and vice presidential debates to their TVs via the Xbox. Oh, and this experience will be interactive, with viewers able to use their controllers to answer questions about the debate. Think Halo for political junkies.
No, seriously. Microsoft will actually dole out a free Halo 4 Warrior Avatar Armor outfit to anyone who watches three of the four debates on their Xbox.
The company has surveyed its Xbox Live customer base and found that it's made up of a crucial demographic: About 40 percent fall into the swing voter category. The Microsoft gamer is likely to be a white male between the ages of 18 and 44 with a good job. Roughly 42 percent of these gamers identify themselves as Independent.
Microsoft will team with polling specialist YouGov to try and ascertain even more information about its users' political leanings during the interactive parts of the debates. Who knows? Someday soon we may elect our leaders from the comfort of our living rooms.
Before it's here, it's on the Bloomberg Terminal.
LEARN MORE