Leeds Puts a New Spin on the Business Minor
Alison Damast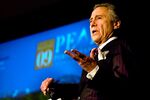 For years, undergraduate students at the University of Colorado, Boulder who wanted to do a business minor have had to brace themselves for what could often be a long and frustrating process to get into the classes they wanted. David Ikenberry, dean of the university's Leeds School of Business, equates it with the "empty seats on an airplane" model. If a few seats happened to be open in a crowded Accounting or Marketing 101 class, they'd go to the next business minor in line. "If they were fortunate enough to gather enough empty seats, they could call it a minor," he said.
It's a scenario that is prevalent at leading business schools across the country, and one that Ikenberry is seeking to change. To do that, the school is designing a new business minor next fall geared specifically toward engineers and liberal arts students looking to get a basic grounding in business and a competitive advantage in the job market when they graduate. The school will be developing the new minor with $1 million in seed funding from billionaire entrepreneur Philip Anschutz's charitable foundation. Several companies, including Arrow Electronics and Ball, are working with the school on the project, and plan to offer future business minors opportunities to work with them on projects and internships.
Ikenberry is hoping that other business schools will take note of the school's novel curriculum—with classes specifically designed for the business minor, including specializations—and create similar offerings for students who are not business majors.
"If it proves successful as evaluated by the business community, I can't help but think that other schools will want to think about this type of model," Ikenberry said.
The minor will take four semesters to complete, and students will begin with introductory classes in finance, marketing, accounting, and management. Students who sign up for the business minor will not be in classes with students from the university's business school, but rather will be in classes designed specifically for them. For example, rather than take a 16-week introductory finance class, a business minor will take a condensed eight-week version of the class that will highlight some of the critical concepts they'll need in the business world.
"For an aerospace engineer, they need much more specific and much more tangible instruction, given that this will probably be their first and last finance course, not the beginning of a 10-course progression," Ikenberry said.
After students complete the first two semesters, they'll have a chance to specialize by selecting one of three elective tracks: data analytics and quantitative methods, innovation and leadership, or entrepreneurship. The minor will culminate in the last semester with a "capstone experience," where teams of students will take an idea for a business or social entrepreneurship venture and develop a business plan for it, or work on a project with a local Fortune 500 company.
The impetus for creating the revamped minor came from local businessmen like Michael Long, chief executive officer of Arrow Electronics, a global distributor of electronic components and enterprise computing services. The company's corporate headquarters are in Englewood, Colo., a suburb of Denver, and the company hires many of the university's engineering graduates. Long first approached the school with the idea of a business minor geared toward engineers about a year ago.
"We sat down with the school's administrators and said, 'Look, we love your students that come on, but we still have to spend a year and a half teaching them the basics around business,'" Long said. "If they can get a taste of that before they graduate, it should be a big help in making them more productive in the field."
Arrow plans to hire about 100 university students next year, and is in the process of designing an internship program for students who pursue the minor, Long said. He believes students who graduate with this minor on their résumés will have a leg up in the job market.
"We will be hiring more and more students from universities that graduate students who have a little bit of business knowledge, along with their engineering school degree," Long said. "I think that this degree will be a very hot number."
There are currently fewer than 100 business minors at University of Colorado, Boulder, but Ikenberry hopes that will change in the next few years. The school hopes to enroll 150 students in the minor next fall, and ramp that up to between 600 and 700 students by 2016.
Steven Leigh, dean of the university's college of arts and sciences, said in an e-mail that he expects the minor will be popular with liberal arts students because it will encourage them to major in a subject they are passionate about, while still having the confidence to know they'll graduate with skills that businesses desire. It will also be useful for theater and dance majors, many of whom are effectively self-employed when they graduate, he said.
"When I talk to people in business, they almost always tell me that the main attribute they desire is creativity," he said. "Students in liberal arts can bring that to the table, and combining creativity with business knowledge should help make our students more competitive for jobs."
Join the discussion on the Bloomberg Businessweek Business School Forum, visit us on Facebook, and follow @BWbschools on Twitter.