Ben & Jerry's Cohen Repos Occupy Wall Street's 'Batmobile'
Ice cream mogul Ben Cohen shows frustration with the movement. So what else is there to do but come up with groovy new ice cream flavors for the 100%?
by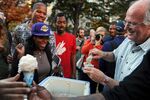 Ben Cohen—Ben & Jerry's co-founder, seasoned activist, and purveyor of hippie justice—is in Berry Berry deep trouble with his favorite cause, the Occupy Wall Street movement. After giving $30,000 in March to fund a van outfitted with a projector to beam the group's messages onto the sides of buildings, Cohen felt the van (dubbed the "Batmobile" and the "Illuminator") was not doing the job and wanted more control. He agreed to share the van with Occupy through the summer and took over on Oct. 1. As they say in the ice cream biz: What A Cluster!
"He's a 1 percenter telling the 99 percent, 'I'm your boss,'" Mark Read, the activist who proposed the mobile projector idea, recently told the New York news site DNA Info.
"I wish them well—they are doing some outstanding work. I'm focusing my efforts on getting at the root of the problem, which we believe is the corrupting effect of money and politics," says Cohen in an e-mail, noting that he's now working with StampStampede, an initiative to stamp dollar bills with messages about money and politics.
Cohen has resigned from his executive duties at the ice cream company, though Ben & Jerry's spokesman Sean Greenwood says in an e-mail: "Ben is very much still an official employee at Ben & Jerry's. He focuses his time on social mission initiatives and helps with campaign and product launches." Surprisingly, neither Cohen's nor the company's involvement with the Occupy movement has inspired any kooky new varieties just yet. "And no ice cream flavors are planned," says Greenwood.
So we figured we'd offer a few humble suggestions. Herewith, our most flavorful ideas:
Occu-Pie Wall Street: Vanilla ice cream with chunks of apple pie and other random throw-ins; no flavor is dominant, making it hard to describe what it really is. "We've had a lot of 'Occu-Pie' suggestions," says Greenwood. Give the people what they want!
Occupy Walnut: For those who don't like pie, there's Occupy Walnut—maple ice cream with walnuts distributed equally among all segments of the container (unlike those other ice creams in which all the good stuff goes to the top).
99% Delish: Strawberry ice cream made with 1 percent milk (i.e., it's 99% fat free) with Sweethearts candies bearing anti-corporate slogans with subtle dietary messages such as: "Stop hyper-consumption!"
Biz-cotti Park: Trust us—Zuccotti Park isn't delicious. Instead, try this coffee-flavored ice cream with biscotti crumbs and tiramisu.
Ain't That Rich: Double chocolate ice cream with peanut butter cups, fudge brownies, and foie gras, all dusted with edible gold powder. Instructions for use: Eat half and then dump half on an unwitting banker's head.
Before it's here, it's on the Bloomberg Terminal.
LEARN MORE