Ben & Jerry's Cohen Repos Occupy Wall Street's 'Batmobile'
Ice cream mogul Ben Cohen shows frustration with the movement. So what else is there to do but come up with groovy new ice cream flavors for the 100%?
By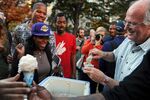 Ben Cohen—Ben & Jerry's co-founder, seasoned activist, and purveyor of hippie justice—is in Berry Berry deep trouble with his favorite cause, the Occupy Wall Street movement. After giving $30,000 in March to fund a van outfitted with a projector to beam the group's messages onto the sides of buildings, Cohen felt the van (dubbed the "Batmobile" and the "Illuminator") was not doing the job and wanted more control. He agreed to share the van with Occupy through the summer and took over on Oct. 1. As they say in the ice cream biz: What A Cluster!