pursuits
Chef Wolfgang Puck's Office Bag Lunch
By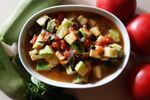 Prolific celebrity chef Wolfgang Puck is known for many things: his 101 restaurants, bistros, and cafes; his television appearances on news, talk shows, and the Home Shopping Network; his Wolfgang Puck housewares; and his cookbooks. The Austrian chef even got his own iPhone app this spring, and he recently accepted an award as British GQ's chef of the year.
For an office bag lunch, Puck suggests workers try zucchini with basil and tomatoes. "This is a wonderful way to serve zucchini. Since it's a year-round vegetable in supermarkets, you can make this dish whenever you want to. I especially like it for a light lunch because it's easy and fast to prepare," says Puck. "Just make sure you don't cook the zucchini for too long or it will lose its texture."
Ingredients
(Serves 2)
5 baby zucchini, approximately 1 pound
2 teaspoons olive oil
1 clove garlic, minced
1 ripe medium tomato, peeled, seeded, diced, and drained
1/3 cup julienned basil leaves
Freshly ground pepper
Salt
Instructions
Cut the zucchini into 1/4-inch slices diagonally, or 1/4-inch cubes.
Heat the olive oil over high heat in a large skillet. Cook the zucchini and garlic for 2 minutes. Add the tomatoes and basil. Continue to cook for 3 more minutes, or until the zucchini is tender.
Season with salt and pepper to taste. Serve hot or cold.
Before it's here, it's on the Bloomberg Terminal.
LEARN MORE