Buy in October and Stay
By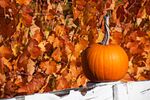 Jeff Hirsch's recommendation to reduce risk was prescient. He based his bearish call on the fact that the stock market had run up [23.52%] since its October 2011 low, was nearing the end of its strongest seasonal period and was losing momentum. His timing was spot on. The Dow Jones Industrial average began tumbling on cue, peaking on May 1 before retreating. In May the Dow has fallen 6% to 12,420 and has suffered losses 16 of 21 sessions, including Wednesday's 161-point drop …
Brian Belski, chief investment strategist at BMO Capital Markets, says making "wholesale portfolio changes" based on seasonality is "dangerous." While the math may add up on paper, it's unlikely to be a winning strategy in the real world because investors lack the discipline to get in and out as required.
—Adam Shell: "'Sell in May' Stock Strategy Certainly Held Up This Year," USA Today, May 30, 2012
Thank you, Brian Belski. Thank you, Jeff Hirsch.
The singular distinction, as we begin the fourth-quarter dash, is no one is in this market. Even the select few, 142?, are on their Bloomberg mobile app at 4 a.m. with one eye on Spain, one eye on Obama/Romney, and the third-eye blind to Big Corporate behavior. This has been a spectacular and lonely advance. (The DJIA has advanced 23.52% in 12 months, vanquishing the single-digit gloomsters.)
Hirsch, of the definitive Stock Traders Almanac, nailed the short-term pause of April, May, and a smidgin of June. Belski, of Bank of Montreal (I'll say BMO when the Habs start winning again), and others of courage nailed—absolutely nailed—this twisted 2012.
2013 beckons. The Red Sox need a lobotomy—excuse me, pitching. There will be a first Wednesday of November. And Big Business will do whatever it takes. Repeat: whatever it takes. Where were you in May? Where are you this October?
Buy in October and stay. Discuss.