Spain Inches Toward a Bailout
Look for a rescue of Spain before November
By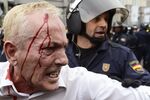 While news reports showed protests raging in Madrid and Barcelona this week, something far more significant was happening in Spain: Prime Minister Mariano Rajoy moved the euro zone's fourth-largest economy squarely into position to get a sovereign bailout from its neighbors.
Rajoy hasn't yet said whether he'll ask for a rescue, in which the European Central Bank would buy Spanish sovereign debt to ease the country's borrowing costs. But the austerity and economic-reform package that Rajoy's government approved on Sept. 27 hews closely to the likely requirements of such a deal.
Immediately after the Rajoy plan's release, European Union officials praised it, saying it met and in some cases even exceeded what Brussels has recommended. Indeed, "the understanding in the market is that Spain consulted with the euro zone leaders and creditors before drafting the budget," says Craig Erlam, a market analyst at Alpari in London. Along with €13 billion ($16.8 billion) in tax increases and cost savings, the plan includes dozens of reform measures Brussels has called for, such as the appointment of an independent overseer to review future government budgets, Erlam says.
By setting the terms himself, Rajoy may be trying to spare his country the humiliation suffered by Greece and other countries where austerity measures have been dictated from outside. He's also buying himself some political cover for elections that are scheduled during October and November in three Spanish regions, including Catalonia, where separatist fervor is running high. "Rajoy does not want to look like he's on his knees," says Gayle Allard, a professor at IE Business School in Madrid. "He wants to be able to say, 'I negotiated something good for us.' "
Financial markets are already anticipating a rescue. Yields on Spain's 10-year benchmark bond were at 5.95 percent on Sept. 28, well below the record 7.75 percent set in July, when Rajoy received approval for as much as 100 billion in aid for Spain's ailing banks. Investors were further reassured on Sept. 28, when results of an independent stress test—required as part of the banks' aid package—estimated their combined capital shortfall at €59.3 billion, in line with expectations and well within the €100 billion authorized earlier. With relative calm in the markets, the "government will be in a better position to request a [bailout] program," former Deputy Finance Minister José Manuel Campa told Bloomberg News. "This is like an insurance; you don't buy it once you have a trauma, you buy it before."
No matter who sets the terms, Spain is sure to face more of the economic pain that has already sparked violent protests. Unemployment is at 25 percent, and the central bank reported Sept. 26 that the economy contracted "at a significant pace" during the third quarter. Higher taxes and spending cuts in the Rajoy budget aren't likely to spur growth.
Rajoy is offering some short-term relief, though. In an unprecedented move, he plans to raid the country's pension reserve fund and use the money to make sure that benefits paid to retirees keep pace with inflation. That could make a big difference to Spanish families with unemployed breadwinners, many of whom now depend on parents' or grandparents' pensions as their key source of income.
How soon could a bailout happen? Some investors think a request could come as early as this weekend, Luca Cazzulani, a strategist at UniCredit in Milan, told Bloomberg News. But he and most other market watchers are betting it will take a little longer than that. EU officials have been pressing Rajoy to announce a decision before a planned Oct. 18-19 summit meeting of European leaders. Rajoy, though, might prefer to hold out until after Catalonia's Nov. 25 elections. Catalan leader Artur Mas has called for a vote on "self-determination," which could push Spain's biggest region toward political separation from the rest of the country.
If Rajoy bides his time, Catalan separatist anger could well simmer down, IE's Allard says. Although Catalonia is relatively wealthy and complains about subsidizing other parts of the country, it relies heavily on exports within Spain and would be economically devastated if other regions retaliated by boycotting its goods. "I don't think the business community will let this get out of hand," Allard says.
Before it's here, it's on the Bloomberg Terminal.
LEARN MORE