Map of the Day: Where Water Bills Have Tripled
The cost of water has risen much more in some places than in others.
By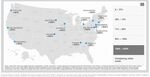 All water isn't created equal: Pumping it into your home in Atlanta and San Francisco costs three times as much as it did a little over a decade ago, while showering in Grand Rapids only costs about a third more, according to a new USA Today report.
The newspaper posted a series of maps that chart where water prices have astronomically soared over the last 12 years, and there are striking geographic differences. Atlanta, Georgia, takes the win for the greatest increase — adding an additional 233 percent. The newspaper tracked data on 100 municipalities for the years 2000-2001 and 2012.

Following Atlanta, Georgia, San Francisco's water increased 211 percent, and Wilmington, Delaware increased 200 percent, according to the map. The article also tracked some of the lower increases — Georgetown County, South Carolina, came in with just a 1 percent increase (lucky them), while two Maine spots, Portland and Augusta, saw their rates increase 14 and 15 percent, respectively.
The article attributes the increasing prices to several factors:
• The cost of paying off the debt on bonds municipalities issue to fund expensive repairs or upgrades on aging water systems.
• Increases in the cost of electricity, chemicals and fuel used to supply and treat water.
• Compliance with federal government clean-water mandates.
• Rising pension and health care costs for water agency workers.
• Increased security safeguards for water systems since the 9/11 terror attacks.
Perhaps the unwashed are on to something.