IPOs Are the Latest Sign of Real Estate's Rebirth
By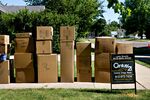 For several months, we've been reporting—cross your fingers—that the housing market may finally be on the upswing. Today's news that the private equity firm Apollo Global Management is about to take its realty brokerage arm, Realogy, public (as RLGY) is just the latest sign of optimism. Apollo hopes to raise as much as $1.08 billion in the deal for Realogy, which counts Century 21, Coldwell Banker, and Sotheby's International Realty among its brands.
Apollo's deal comes on the heels of several other real estate initial public offerings. When the house-hunting website Trulia made its debut on Sept. 20, it climbed 41 percent in its first day of trading. Trulia got an additional boost because it went public a few weeks after the Case Schiller 20 City Home Price Index showed the first year-over-year growth since 2010. And last month Lehman Brothers announced plans to take public Archstone, the apartment real estate investment trust that Lehman originally bought at the height of the bubble for $22 billion. It could be the largest REIT public offering on record.
Still, the deals are a stark reminder of how far the fragile housing market has to go. Apollo bought Realogy in late 2006 for about about $6.8 billion. If the IPO is priced at the midpoint of Apollo's estimated range, Realogy will now be valued at less than half that—about $3.25 billion. Trulia's stock has fallen about 11 percent in its first week of trading—in part because of a short seller's scathing report about Trulia's competitor, Zillow. (The report mostly attacked Zillow's business model, rather than housing-market dynamics.)
Clues to the housing market's future remain mixed. Existing home contracts fell 2.6 percent in August. Mortgage interest rates are yet again setting record lows. The average rate for a 30-year fixed-rate mortgage is now 3.4 percent. These low rates come even before the Federal Reserve buys up mortgage securities, which could drop rates even farther. Just how low, though, will depend on lenders, who so far have been keeping a growing share of the Fed's low rates to themselves, Bloomberg News reported earlier this week. With such jumbled housing news, it will take time to see if these newly public companies are riding a fleeting surge of optimism or marking the start of a sustained recovery.
Before it's here, it's on the Bloomberg Terminal.
LEARN MORE