Bo Xilai: End of a Princeling
In Chinese politics, a fall from grace is always possible
By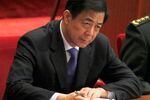 The biggest political crisis to hit China in over two decades appears to have moved closer to resolution. The former high-flying Party Secretary of Chongqing, Bo Xilai, once a contender for a top post in China's leadership, has been expelled from the party and his case will be transferred to judicial authorities, China's official Xinhua News Agency reported on Sept. 28. In a separate report, Beijing also announced that its much-anticipated Communist Party Congress is to open on  Nov. 8.
"Investigations found that Bo seriously violated the Party disciplines," in his various government roles, which included stints as mayor of the northeastern city of Dalian, administrator of the rustbelt province of Liaoning, commerce minister, and most recently party chief of Chongqing, Xinhua said. The report went on to say that "Bo abused his power, made severe mistakes and bore major responsibility in the Wang Lijun incident"—in which Bo's former police chief sought asylum in a U.S. Consulate in Chengdu, Sichuan, as well as in the murder of an Englishman late last year by Bo's wife, Gu Kailai.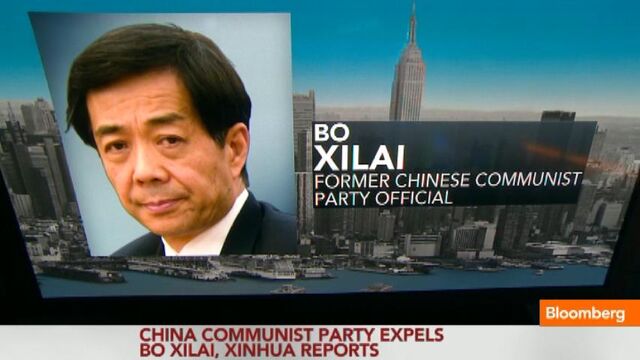 "He took advantage of his office to seek profits for others and received huge bribes personally and through his family," Xinhua continued, adding that Bo also had "improper sexual relationships with a number of women."
"Bo's behaviors have brought serious consequences, badly undermined the reputation of the Party and the country, created very negative impact at home and abroad and significantly damaged the cause of the Party and people," Xinhua concluded. The announcements came late on Friday as Chinese and foreign businesses, along with government offices, were shutting for a national holiday that will run for more than a week.
The sensational and salacious charges against Bo, son of one of China's revered revolutionary leaders—along with the long-awaited announcement of the timing for the opening of Party Congress—will begin to clear the cloud of uncertainty that has fallen over Beijing as it prepared for a once-in-a-decade leadership shift. It also suggests that China's outgoing top leadership, buffeted for months by the scandal's fallout, seem to have finally reached agreement on the crucial question of who will replace them to take over the helm of what is now the world's second-largest economy.
Those now almost certain to rise to China's elite Politburo Standing Committee include 59-year-old Xi Jinping, China's presumptive next party secretary and president, as well as 57-year-old Li Keqiang, who will likely become premier. They will be the only two members of the now-nine-member Standing Committee to remain in power. At 61, Li Yuanchao is expected to win the vice presidency, while 64-year-old Wang Qishan is likely to get the executive vice premier position. All four are considered probable proponents of further economic reform—and possibly incremental political reform.
The remaining three to five positions to be filled—depending on whether the committee is cut to seven members from the nine now serving—remain uncertain. Also unclear: what policies might be emphasized at the party congress. Previous congresses have pushed breakthrough policies, such as the decision to allow private entrepreneurs in the party, and have even amended China's constitution.
The Xinhua report on the Party congress revealed little. It said that the Party's work over the last five years will be reviewed, while "the congress will make strategic plans for the overall advancement of China's reform and opening up and socialist modernization drive, as well as for the overall advancement of Party building in the new era."
"The congress will further mobilize the entire Party and the people of all ethnic groups to march unswervingly along the road of socialism with Chinese characteristics, continue to advance scientific development and promote social harmony, and continue to improve people's livelihood and well-being, and strive for the building of a moderately prosperous society in an all-round way," it predicted.
Before it's here, it's on the Bloomberg Terminal.
LEARN MORE