pursuits
Office Upgrade: Swing-Set Conference Table
By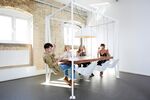 What it is: a conference table surrounded by swinging chairs on a steel frame
Cost: £6,895 ($11,218), lampshade not included
Meetings can be such a bore. A swing set can only help.
Designer Chris Duffy, founder of Duffy London, focuses on original concepts rather than utility. "It was hard to come up with an original concept if you stick to a manufacturing process, or design something for a structure or purpose—you come up with something that's already been done," he says. "Because you ask the same questions, you have the same answers."
So Duffy, now age 36, tossed aside concerns about practicality and ease of manufacture and developed this swing table for the office. "When you're on a swing at a formal table, there's something quite hard for your brain to get, and it makes you smile. It really is fun."
Duffy London, which started manufacturing the table in 2010, has so far sold five in Europe and is receiving inquiries from startups looking to furnish their offices. Each piece is made to order and customizable. "Some companies want each part in different shades of green," Duffy says.
Each chair, suspended from stainless steel cables, supports about two tons. The frame may support robust swinging, but don't get too carried away—you'll just crash into the table.
Before it's here, it's on the Bloomberg Terminal.
LEARN MORE