business
MBA Alumni in the News: Sept. 27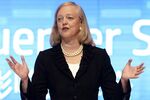 Each week Bloomberg Businessweek brings you an update on how MBA alumni from top business schools are making news—the good, the bad, and the ugly. This week, graduates from Harvard, Wharton, Kellogg, and Cornell were among those making headlines.
Pooped: Ton Buechner, chief executive of paintmaker Akzo Nobel and an MBA alum from IMD, took a one-month leave, citing fatigue. Buechner took over the company on May 1.
So Have Your M&A Guy Call My M&A Guy: Sprint CEO Dan Hesse, an MBA graduate from Cornell University's Johnson Graduate School of Management, said the company may be open to acquisitions as the industry consolidates.
And Coming Up on Your Right: J.C. Penney CEO and 1984 Harvard Business School MBA graduate Ron Johnson gave 300 analysts in Texas a guided tour of the new store layout on Sept. 19, but it failed to inspire confidence in his overhaul of the retailer. Shares immediately fell 11 percent to close at $25.83, their biggest one-day drop since May.
Presidential Ambitions: Ahn Cheol Soo, founder of South Korea's biggest antivirus software maker, Ahnlab,  entered the South Korean presidential race. The Wharton MBA will challenge ruling party candidate Park Geun Hye and the main opposition's Moon Jae to succeed Lee Myung Bak.
No Coincidence: Three of Fortune's five Most Powerful Women in Business have MBAs from Harvard, Northwestern's Kellogg School of Management, and IIM Calcutta. A fourth, Kraft Foods CEO Irene Rosenfeld, has an MS in business from Cornell's Johnson School.
What I Learned at Harvard Business School: Mitt Romney, the Harvard MBA leading the Republican presidential ticket, paid a 14.1 percent federal income tax rate in 2011. He could have paid less, but he claimed deductions for only $2.25 million of the $4 million in charitable contributions he made in order to keep his tax rate above 13 percent, in line with earlier statements he made about his tax payments.
Annals of Strategy: Hewlett-Packard Chief Executive Meg Whitman, a 1979 Harvard MBA graduate, was said to be planning a new product lineup that includes software and tablets for business. Time CEO Laura Lang is forging a plan to unify the company's print and online fiefdoms and revive the struggling publisher. The 1980 Wharton MBA wants to give customers the ability to advertise across all 21 of Time's magazines, both in print and online, reaching an audience of 127 million people.
Dollars and Cents: Jefferies Group set a $1 million salary for CEO Richard Handler. The 1987 MBA graduate from Stanford Graduate School of Business will also receive an annual bonus of up to $12 million and 830,140 shares of restricted stock a year. The compensation package is for 2013 through 2015.
Using the Get-Out-of-Jail-Free Card: Rajiv Goel, who testified against Wharton MBA classmate Raj Rajaratnam at the Galleon Group co-founder's insider trading trial, was sentenced to two years probation. U.S. Judge Barbara Jones said Goel, who faced up to 25 years in prison, was crucial to the prosecution of Rajaratnam. Two other government witnesses in the case were also spared prison terms: Anil Kumar, another Rajaratnam classmate from Wharton, and Galleon portfolio manager Adam Smith, a Harvard MBA.
Drunk Driving: The 19-year-old son of hedge-fund manager and Harvard MBA Leighton Welch pleaded not guilty to charges that he killed a passenger in an all-terrain vehicle while driving intoxicated at the exclusive Yellowstone Club in Bozeman, Mont. James Welch was arrested Aug. 2 and charged with negligent vehicular homicide under the influence of alcohol.
Turn Out the Lights: With sales down, Staples CEO and Harvard MBA graduate Ronald Sargent moved to shut 60 stores in Europe and the U.S. to save $250 million. The company has posted sales declines in the last two quarters.
Succession Chronicles: Cisco Systems CEO John Chambers named some of the  potential successors he and the board are considering for when he retires, a move that could come in two to four years. The 1975 MBA graduate from Indiana University's Kelley School of Business told Bloomberg News there are as many as 10 candidates, including Edzard Overbeek, the company's senior vice president of global services and an MBA graduate of the University of Bradford.
Moving Up: With customer losses mounting, Deutsche Telekom named John Legere chief executive of T-Mobile USA. The MBA graduate from Fairleigh Dickinson University's Silberman College of Business replaces Philipp Humm, who stepped down in June.
Moving Out: Goldman Sachs CFO and Harvard MBA David Viniar is leaving the bank in January, after 32 years. He will be succeeded by Harvey Schwartz, who has an MBA from Columbia Business School. Bill Nelson, the CEO of Time Warner's HBO pay television network, is retiring at the end of the year. The MBA graduate from Pace University's Lubin School of Business has led the network since 2007.
Join the discussion on the Bloomberg Businessweek Business School Forum, visit us on Facebook, and follow @BWbschools on Twitter.
Before it's here, it's on the Bloomberg Terminal.
LEARN MORE