business
From Chicago's Mean Streets to B-School
Francesca Di Meglio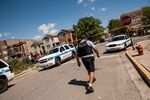 People take many different paths to business school, but very few take the road traveled by Srinivas "Cheeni" Rao. An unlikely candidate for an MBA, the award-winning writer is a recovering drug addict who was homeless and a petty criminal on Chicago's South Side.
Rao's memoir, In Hanuman's Hands (HarperOne, April 2009), won the Barnes & Noble Discover Great New Writers honor in 2009 and covers his downward spiral, spiritual healing, and eventual recovery. Today, Rao is a first-year MBA student at the University of Iowa's Tippie College of Business. He's turning to B-school to fulfill his desire to learn the business skills he lacked while running a writing consultancy for the last 12 years.
Rao has a wife and a young child, and says the MBA lifestyle is a good fit right now. Will this mean the end of his writing career? Read on to find out in these excerpts from a recent conversation with Bloomberg Businessweek reporter Francesca Di Meglio.
What was the genesis for your memoir?
My memoir is on the one hand about the creation of modern mythology because it plays on Hindu mythology. It also plays on my family history because it chronicles my descent into dark times and coming out of them. There are parallels with my father's story of coming from India. My parents immigrated to the United States in the 1960s.
You had a serious drug problem, which is discussed in your memoir. What do you want people to know about that experience?
My drug use went on for a period of years. It wasn't casual or touristy. It was severe during my early college years. Some of my strengths today were being misdirected back then. The single-mindedness that fueled my self-destruction when directed at positive efforts has brought me success—writing books, building a business.
There's a lack of understanding about the trials people go through. Typically, society writes off people like myself. Although there is a percentage who can stay clean, it is a small group. They tend to be more dedicated. My near-death experience crystallized what's important to me. It's given me a focus that I've noticed others don't have. I went to rehab. I credit my success to being around people who are supportive. It comes down to the individual. If people are not ready to make a change, they won't do it.
How did you come to writing?
I was more of a math and science person, but I always had a fascination with writing. At college, I was introduced to creative writing and theater. I started to win writing awards at school [at the University of Chicago]. I applied to the University of Iowa's Writer's Workshop, which is the No. 1 creative writing program in the country, and completed my MFA in 2000. My writing business, the Iowa Book Doctors, focused on ghostwriting, book editing, and one-on-one creativity consulting, employing 20 writers and editors at its peak.
Are you still running the writing business?
I'm in the process of negotiating a sale of the business after having run it for 12 years. I've been looking to do other things. Some of the ghostwriting I have done has gone on to become movies and has won awards. It's been an interesting experience.
What made you decide to pursue an MBA?
The writing business grew rapidly. I was spread too thin, and I didn't have the right management structure in place. The business generated nearly $1 million in revenues at its peak. E-books and e-readers created a shift in the industry. My larger clients in publishing began looking for ways to cut costs as a result, and it was difficult to sell them quality editing when that had less value in the new marketplace. All my business success had come through instinct, through seeing opportunities and capitalizing on them. I realized I needed to learn more about business, about how to run a business more efficiently, and how to better build and retain client relationships.
My preference now is to work for an already established company and apply the skills I'm learning. So I'm in an MBA program working as a finance major with an interest in leadership development. I want to be a problem solver. It's a natural fit for me to be in publishing and entertainment.
Will you continue to write?
I love writing. It's not hard to continue to write. I set aside time on the weekends. I had a professor who would say, "If you write a page a day for a year, then you'll have a book at the end of the year." I don't know that I could write a page a day, given my schedule, but it's easy for me to write. It will be nice to focus my energy on my own writing again.
Join the discussion on the Bloomberg Businessweek Business School Forum, visit us on Facebook, and follow @BWbschools on Twitter.
Before it's here, it's on the Bloomberg Terminal.
LEARN MORE