business
Fighting to Tell You What's on TV Tonight
New boxes provide personalized cloud-based channel guides
By
Fighting to Tell You What's on TV Tonight
New boxes provide personalized cloud-based channel guides
By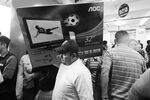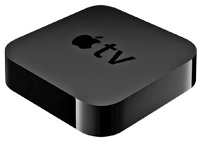 After conquering the music, phone, and computer industries with elegant designs and simple functionality, Apple is eyeing television as its next battlefield. But don't expect cable companies to surrender their remote controls without a scrap. Comcast, Time Warner Cable, Cox Communications, and Cablevision are all upgrading their TV guides, those menus of shows and channels that pop up on your screen for your scrolling pleasure. Cable companies are worried—and not only because tech companies have raised the bar on search and navigation. They also fear that customers have lost track of how much content is now available to them. The newest interfaces link up with the Internet, allowing for more personalization and control with mobile devices.
The advances come at a time when Apple is reportedly talking with the cable industry on developing a set-top box that would synchronize content among its products. Cable operators may respect Apple's track record with consumers, but few of them are eager to allow another company to get in between their customers and the programming they watch.
"Our history with purchasing a guide from a third party just didn't lend itself to rapid releases," says Steve Necessary, Cox's vice president of product development and management. If the company wanted to add a function to the guide—say, allowing customers to search by keyword—it would have to figure out how to download it to set-top boxes made by multiple manufacturers from different eras. U.S. cable companies are gradually dumping those old boxes and moving toward Internet-connected devices that can access cloud-based guides written in the new Web standard HTML5, allowing for more individual preferences, swifter updates, and searches that bring up content with a keyword.
Comcast, the largest U.S. cable company, introduced its Internet-connected guide to customers in June after nearly a year of testing in Augusta, Ga. The Philadelphia-based company plans to roll out the guide, called X1, in five major markets by the end of the year. X1 is an enhanced version of Comcast's Xfinity mobile application. It allows users to have similar experiences watching videos on laptops, smartphones, tablets, and televisions. Mobile applications double as remote control interfaces and can be used to personalize the guide—including adding a dashboard that shows appointments, e-mails, texts, and voicemail—if the user is also a Comcast phone and broadband subscriber.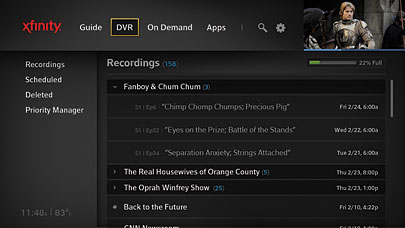 Cox, the third-largest U.S. cable operator, has developed a user interface called Trio, which is "far more personalized" in nature than anything the company has offered in the past, Necessary says. "I want to see the program choices that are of particular interest to me, not those that are of interest to my wife or my kid," he says.
Time Warner Cable plans to bring out its own cloud-based user interface during the fast half of next year, says Rob Marcus, the company's chief operating officer. But unlike other cable companies, he says, Time Warner Cable isn't "religiously wedded to absolutely controlling the user interface." While Marcus declined to comment on a possible cooperation with tech companies, Time Warner Cable has held discussions with Apple on a set-top box, according to a person familiar with the situation who asked not to be identified because talks are private.
Turning over the user experience to a tech company such as Apple or Google would be a boon for consumers because the final product will probably be much better than what cable can offer, says Vijay Jayant, a pay-TV industry analyst at ISI Group in New York. "Investors don't believe that cable can match Apple and Google," Jayant says. "The proof is in the pudding."
One of cable's advantages is that a set-top box is included in the cost of the service. Consumers don't want to buy another device unless it adds a lot of value, says Anthony Wood, chief executive officer of Roku, which makes boxes that let users access Internet content on their TVs. That's why devices that have capabilities besides controlling cable TV, such as Microsoft's Xbox, have become viable alternatives, he says. Customers can download their cable system's app, such as Comcast's Xfinity TV, to an Internet-connected Xbox and watch shows using the game console's interface and controller.
But Microsoft and other tech companies really haven't figured out television yet, says Tom Rogers, CEO of TiVo, whose business depends on reaching agreements with both consumers and cable operators to control the user experience. These companies still need to learn to work within the constructs of television, which is "a different animal" than other media, he says.
The device "has to be really intuitive and easy and something that's simple and convenient," Rogers says. "Even if you're a sophisticated techie, you come to your TV with an expectation that how you're going to use it is relaxed."