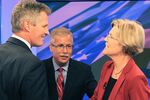 The appearance of a YouTube video showing several Scott Brown campaign staff members at a rally doing their best imitations of Cherokee Indians—complete with whoops and tomahawk-chopping hand motions that would make a group of unruly 8-year-olds proud—represents a new low point in the closely watched Massachusetts race for a U.S. Senate seat. The campaign has quickly gone from being one of the most civilized to the election cycle's pettiest.
The video, which was posted by the Blue Mass Group politics blog and first reported by WCVB-TV in Boston, was made during a campaign rally on Saturday, and the actions depicted evoked accusations that Brown's Democratic opponent Elizabeth Warren benefited in her career from claims of Native American heritage. WCVB identified a handful of people participating who are involved in Brown's campaign, with the most prominent appearing to be Brad Garnett, a field coordinator for the Massachusetts Republican Party, and Jack Richard, Brown's constituent services counsel. Other staff members close to Senator Brown, including deputy chief of staff Greg Casey, are seen standing by and watching, wearing big smiles. "Certainly it's not something I condone," Brown said of the behavior of his staff during an awkward press scrum. "It's certainly something that if I'm aware of it, I'll tell that member to never do it again." He added: "I ask everyone to show class and decorum on both sides."
For anyone paying close attention to the race, it's a disturbing though not entirely shocking turn of events. For months, the nearly tied Massachusetts Senate race maintained a relatively substantive tone, mostly due to an agreement the candidates made in January to discourage spending by Super PACs and other outside political groups. As a result of the arrangement, which the outside groups have respected, far fewer nasty attack ads have aired than in some other states. But as the campaign progressed, it was obvious that the candidates were struggling to maintain their above-it-all politeness, and finally the levee broke.
"Brown seems to be going negative," says Bruce Mohl, a former longtime Boston Globe reporter, now editor of Commonwealth Magazine. "His whole persona is, he's a nice guy, a friendly guy, who runs a clean campaign." What's less clear is how the Massachusetts electorate will respond to the new, attack-mode Brown. Their next debate is Oct. 1.
The inflection point came during the first debate between Brown and Warren, held Sept. 20. In response to the first question, Brown said: "I think what you're referring to is the fact that Professor Warren claimed that she was a Native American, a person of color, and as you can see, she's not." The exchange quickly devolved into a discussion of Warren's salary while teaching at Harvard and her work for an insurance company facing asbestos claims. Warren, seemingly backed into a corner, pulled out what she clearly thought was the deadliest weapon she had: "If the Republicans take over control of the Senate," she said, "Jim Inhofe [Republican senator from Oklahoma] would become the person who would be in charge of the committee that oversees the Environmental Protection Agency. He's a man that has called global warming 'a hoax.'"
In an odd way, the absence of outside spending may force a certain amount of honesty out of the candidates themselves—even if it doesn't prove to elevate the tone of their interactions—by eliminating some of the outside proxies who usually take on most of the truly dirty politics. "In a lot of campaigns, third parties are running very negative ads," Mohl says. "That's not happening in the Massachusetts Senate race. So if a candidate wants to go negative, they have to do it themselves."
Before it's here, it's on the Bloomberg Terminal.
LEARN MORE