Bid & Ask: The Deals of the Week
Noteworthy expenditures of the week
by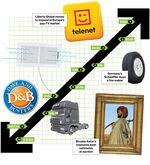 1. Europe's No. 3 oil company, Total, plans to sell as much as $20 billion in assets to raise cash for oil and gas projects as it tries to increase output by 3 percent a year through 2015.
2. Itau Unibanco Holding paid $5.2 billion for the outstanding shares of Redecard, completing a plan to take the credit-card processor private.
3. John Malone's Liberty Global bid $2.5 billion for the 49.6 percent of Belgium's Telenet Group Holding it doesn't own to increase its presence in Europe's pay-TV market.
4. Germany's Schaeffler, a family-owned manufacturer of auto and aviation parts, is selling a 10.38 percent stake in tire and parts maker for $2 billion to reduce debt.
5. ExxonMobil will pay about $2 billion in cash and assets to Denbury Resources for drilling rights on 196,000 acres in the Bakken Shale fields in North Dakota and Montana.
6. The world's No. 1 surveyor of oil fields, Paris-based CGGVeritas, is buying the seismic division of geological data company Fugro for $1.6 billion.
7. Canada Pension Plan Investment Board will pay $1.1 billion to acquire full ownership of a unit of Tomkins, the company it jointly owns with buyout firm Onex. The unit makes products for distributing, recycling, and venting air.
8. Europe's No. 2 carmaker, Peugeot Citröen, is selling 75 percent of its Gefco trucking unit to Russian Railways for $1 billion to reduce debt.
9. Dave & Buster's, operator of 59 dining and entertainment outlets, filed to raise as much as $107.1 million in an IPO. The chain, founded in 1982, was acquired by Oak Hill Capital Partners in 2010.
10. An estate auction of items from philanthropist Brooke Astor's homes, including John Frederick Lewis's A Memlook Bey, Egypt canvas, raised $18.8 million.
Before it's here, it's on the Bloomberg Terminal.
LEARN MORE