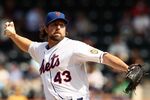 R.A. Dickey became the New York Mets' first 20-game winner in 22 seasons, pitching his team to a 6-5 win over the Pittsburgh Pirates. … The crosstown New York Yankees had six 20-game winners in the 22 years since Viola's feat: Andy Pettitte in 1996 and 2003, David Cone in 1998, Roger Clemens in 2001, Mike Mussina in 2008 and CC Sabathia in 2010.
—Mason Levinson: "R.A. Dickey Becomes Mets' First 20-Game Winner in 22 Seasons," Bloomberg News, Sept. 27 , 2012.
Yankees 6, Mets 1.
Viola is Frank Viola. Thursday, Sept. 27, is a special day on so many levels as to defy description. Tom Keene, you're no Roger Angell, so I won't even try. Please though, read Levinson's terse jewel as October beckons.
See here Angell's classic work on the majestic St. John's vs. Yale game of another time and place. Viola and Yale's Ron Darling are forever entwined.
Reports suggest that son, Frank Viola III, is attached to the esteemed Mr. Dickey to salvage his career by pushing the hardball to the plate with knuckles, not fingers.
Mets herder-of-cats Terry Collins, he of 41 years in baseball says, "I've never seen anything like this. Never."
Spain, Greece, Japan, China, Ohio, bridge tolls, you just got the vet bill for the dog's cut paw in August, and the 9th-grader needs a TI-83 calculator, tomorrow.
None of it matters. This evening, as this endless summer wanes, R. A. Dickey has reaffirmed all that is good. Discuss.
Before it's here, it's on the Bloomberg Terminal.
LEARN MORE