The Man Behind the Moves: Psy of 'Gangnam Style' Fame
By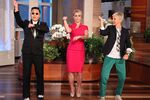 Maybe you've been too preoccupied with presidential politics or incompetent NFL replacement refs to get into Gangnam Style, the hilarious music video from South Korean rapper Psy (whose real name is Park Jae-sang), which has logged about 280 million views on YouTube since its July 15 debut. It is now the most "liked" video in YouTube history and has topped charts worldwide. Like Macarena, that grating global hit from the mid-1990s, Gangnam Style has a distinctive dance and catchy tune that make one's inability to decipher the lyrics almost irrelevant.
The 34-year-old singer has now returned to Seoul after spending three weeks in the hit-hungry U.S. market. The fact that most of us still know little beyond his name and that hypnotic horse-riding dance says a lot about what can happen when a foreign star gets American-style coverage.
On hitting the 12 million-view mark, Psy caught the attention of LA talent manager Scooter Braun, who responded with the Gangnam-style yell: "I have to sign a contract with him for the world!" With Psy now managed by a man whose other discoveries on YouTube include Justin Bieber and Carly Rae Jepson, the singer was sent off to all the usual star-making venues.
That doesn't mean he got the usual star treatment. Ellen DeGeneres was one of the first to secure the man behind Gangnam Style, yet she barely spoke to the artist when he came to her show on Sept. 11 to teach Britney Spears his signature dance. (The pop-star had previously tweeted that she wanted to learn the moves.) Britney's first words to Park were "show me" while Ellen immediately assumed a dancing stance. (Meanwhile, Simon Cowell, also on hand, couldn't bring himself to get off the couch.) Psy gamely responded by saying, "By the way, can I introduce myself, not just dance? I'm Psy from Korea. How are you?"
While it's no surprise that a man with a signature dance was asked to perform it, the implication was that this guy is a Charlie-Bit-My-Finger type of viral sensation, more likely to follow the career path of Rebecca Black than that of Justin Bieber. The resulting lesson led to The Ellen DeGeneres Show's best TV ratings since 2003 and has since logged 26 million views of its own on YouTube. That just meant Psy got to come back and dance again. He had to sit through a Today Show interview in which the conversation turned to the "more serious" subjects of Kate Middleton going topless and the anchor's new hairdo. He was squeezed into a skit on Saturday Night Live.
Psy's confident demeanor and sharp humor may reflect that he's already a popular and controversial star in Korea. What's more, he attended Boston's Berklee College of Music, speaks great English, and has a wry sense of humor. Psy also grew up near Gangnam, the tony district of Seoul that he parodies so well in his video.
We know this because Ryan Seacrest, of all people, gave the best-yet in-depth interview of Psy. On his radio show, Seacrest allowed his audience insight into South Korea's pop culture, along with a real sense of the personality of one of its biggest stars. That's not a surprise, as Seacrest has proven to be as adept at interviewing newcomers on American Idol as nabbing the big names in Hollywood. For a man who's built a small empire for himself in Hollywood, he is remarkably ego-free when it comes to conducting interviews.
Back home, Psy's father's semiconductor company has doubled its stock price because of Park's fame. He's now working on his seventh album—no doubt writing more hits for other Korean stars. Who knew?
Before it's here, it's on the Bloomberg Terminal.
LEARN MORE