Is the Small Business Lobby Really All About Big Business?
By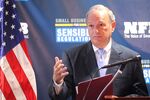 The conservative leanings of the National Federation of Independent Business, the small business lobbying group that describes itself as "a nonprofit, nonpartisan organization," have never been much of a secret. The group made its name in the 1990s thwarting Bill Clinton's health reform and more recently led the unsuccessful Supreme Court challenge to President Barack Obama's health law. The NFIB regularly opposes higher taxes and regulation, and its political action committee stands squarely with GOP candidates.
Today a new report attempts to paint the NFIB not just as conservative but as "a front for big business." The left-leaning Center for Media and Democracy reveals previously undisclosed donations to the NFIB that it says tie the group to the billionaire Koch brothers (who fund millions in conservative political ads) and the American Legislative Exchange Council (which writes pro-business laws and pushes them in state legislatures). But the evidence for these ties, highlighted at a new website, fails to make a convincing case.
The assertion rests largely on two sets of donations to the NFIB's legal branch, which led the health-care challenge. One, for $1.15 million, came from a group called Donors Trust, and the other, worth $100,000, came from the Lynde & Harry Bradley Foundation. The NFIB isn't legally required to disclose its donors, but the Center for Responsive Politics, a Washington group that tracks campaign finance, uncovered the transactions through the donors' own IRS filings. Let's unpack them.
Donors Trust is a 501(c)3 that directs money to charities based on the wishes of its donors—individuals, other charities, businesses—often keeping the source of the funds anonymous. (Companies like Vanguard and Fidelity offer similar services, called donor-advised funds, to clients.) Is Donors Trust conservative? "We are a group that supports organizations that are seeking to further liberty, to further personal responsibility," Chief Financial Officer Jeff Zysik told me.
It's true that Donors Trust has directed millions of dollars to the Koch brothers' Americans for Prosperity Foundation, and right-leaning recipients benefit from much of the group's giving. It has also donated to universities, Massachusetts General Hospital, and the Smithsonian Institution, according to its 990 form filed with the IRS. The fact that five anonymous donations totaling $1.15 million flowed to the NFIB through Donors Trust doesn't tell us anything about whether those donors are backing big business interests.
The Bradley Foundation, which made more than $42 million in grants in 2010, according to its 990, did give the NFIB's legal arm $100,000 explicitly "to support health-care litigation efforts." It gave money to ALEC and other conservative groups; it also gave money to youth volunteer group City Year, Harvard, and the Milwaukee Ballet.
The bulk of the NFIB's money comes from its members: It took in $80 million in dues in 2010, and less than $9 million in other contributions. The NFIB has about 350,000 small business members, most with fewer than 20 employees, according to spokeswoman Jean Card. She sent the following statement in response to the Center for Media and Democracy report:
NFIB is a member-driven, issue-driven organization. All of our advocacy and legal efforts are based purely on the positions of our membership, whose views and priorities we monitor constantly. … NFIB and its membership are not concerned with party affiliation; we focus on policies, not party.
Does the NFIB support conservative positions? No question. It's received $3.7 million in funding from Karl Rove's Crossroads GPS. The NFIB also spent $3.1 million in 2010 for "advertising services" with Crossroads Media, which bills itself as "the premier Republican media services firm." Does that make the NFIB a front for big business, or are conservative policies just what its small business membership wants? That's harder to judge. The NFIB backs extending tax breaks for the wealthiest Americans, even though the bulk of those benefits would accrue to people other than small business owners, according to a nonpartisan analysis. We dubbed this practice "small biz-washing." Still, the newly disclosed donations from Donors Trust and the Bradley Foundation, on their own, don't put the group any closer to the Koch brothers or ALEC than the Milwaukee Ballet.
Before it's here, it's on the Bloomberg Terminal.
LEARN MORE