ForumWatch: Most Overrated B-Schools
Francesca Di Meglio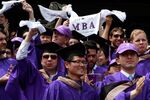 Lots of people come to the Bloomberg Businessweek Business School Forums to share their opinions on various business schools. Some opinions are nicer than others. Every once in a while, posters on the forums get a wee bit critical. It can be interesting—and useful—to those thinking about applying to an MBA program.
Recently, Torque visited the forums to start a conversation about the most overrated business schools. New York University's Stern School of Business, London Business School, and Yale School of Management were on Torque's list. And the participant offered reasons for each being "overrated." Others offered their thoughts. So what do you think? To join the conversation, visit the "Most overrated B-schools" discussion thread.
Editor's Note: This blog post is part of a series about discussions taking place on the Bloomberg Businessweek Business School Forums, where prospective MBA program applicants, current students, and recent alumni trade admissions tips, job-hunting advice, and the occasional barbed comment. We invite you to join these discussions or start one of your own.
Before it's here, it's on the Bloomberg Terminal.
LEARN MORE