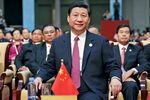 Sometime in the next few weeks, the Chinese Communist Party will likely convene its Party Congress, which meets every five years to set major policies and choose its Central Committee of about 370 members. This year a major leadership change will take place. China watchers are scrutinizing the personality and goals of Vice President Xi Jinping, who's almost certain to become the country's next party secretary, president, and, at some point, head of the military. Analyzing Xi is crucial—especially given his recent, mysterious two-week absence from public view. (He's since been seen in good health at various functions.)
When he assumes the presidency in March, Xi will not rule alone. He's a member of the Standing Committee of the Politburo, the country's top leadership body. "The No. 1 leader has some initiative and power. But he is a first among equals and has a lot of restraints," says Cheng Li, a senior fellow at the Brookings Institution and an expert on the politics of China's elite. "Their power is far less than the power of the U.S. president."
The seven- to nine-member Standing Committee of the Politburo came into being in 1956, seven years after the founding of the People's Republic of China. Officially, Standing Committee members are selected by a vote of the Central Committee. In reality they are picked in backroom negotiations among outgoing members and a few select party elders, former President Jiang Zemin being paramount among them this time, says Robert Kuhn, author of a biography of Jiang and more recently, How China's Leaders Think.
The late Deng Xiaoping exerted tight control over who was selected. It was Deng who chose Hu Jintao, the current party secretary and president, who has disappointed reform-minded Chinese by slowing economic change. Xi is Jiang's choice, and Li Keqiang, the next likely premier, is Hu's. "The process of succession remains very opaque," says Jean-Pierre Cabestan, head of the department of government and international studies at Hong Kong Baptist University. "So that of course opens the gate to all kinds of speculation—we are all in the dark."
Until Mao and Deng, the committee took its cues from one leader. Jiang, too, exerted an outsize influence on the body from 1987 to 2002, serving as general secretary and then later adding the presidency. Still, his power never matched Deng's, says Orville Schell, director of the Asia Society's Center on U.S.-China Relations in New York. The top leaders moved toward their present model—what Schell calls leadership by committee—partly in reaction to the excesses of the Mao era. Nobody wanted another Cultural Revolution or Great Leap Forward. The committee also evolved because there weren't leaders with the vision or ego to take charge, says Schell.
The Standing Committee, which Cabestan says usually meets once a week in the Zhongnanhai leadership compound just off Tiananmen Square, makes the ultimate decisions on all major policies, and the members must reach consensus. The committee has a record of effectiveness: rolling out a massive stimulus during the global financial crisis; building national infrastructure; combating severe acute respiratory syndrome and the religious sect Falun Gong; and more recently, deciding to allow and even encourage anti-Japanese protesters to take to the streets. With these initiatives, there were no clear losers inside the establishment. "What they are able to get done is more nuts and bolts. They can arrest people. They can build a railroad or an airport. But it's the bigger things that are much harder," says Schell. He's referring to the wish list of many reformers, investors, and academics: a true crackdown on high-level corruption, serious limits on the state enterprises, and liberalization of finance so banks can make commercially based loans rather than funnel cheap credit to state enterprises. Also: gradual political reform to allow real opposition parties.
Just one member who strenuously objects to a course of action and rallies support from others can obstruct change. Critics on the Chinese Internet speculate that there were high-level political reasons why Gu Kailai, the wife of ousted Chongqing Party Secretary Bo Xilai, was charged with and ultimately convicted of killing an Englishman, but not charged with corruption. That, netizens have surmised, would have called attention to the family members of other senior leaders who are thought to have enriched themselves.
Another reason change is hard: All Standing Committee members have patrons whom they have in effect promised never to harm. With so many members owing their positions to Jiang—as many as five members of the next Standing Committee—they likely won't be taking actions that Jiang doesn't like. That could include trying to remove the offspring of prominent leaders, serving and retired, from high-level positions in business. Jiang's son is a powerful executive in telecommunications, says Hu Xingdou, a professor of economics at Beijing Institute of Technology and a blogger. The retiring leader "wants people he can trust who are loyal to him. It's a promise to maintain one's legacy, where nothing will be said or done to disparage the previous leader and his family," says Kuhn. "It is a sort of mentoring relationship."
The Standing Committee has two major factions with different backgrounds, as well as sometimes differing priorities for China's development, says Li at Brookings. Although members of each faction don't always act together, they're adept at shooting down policies they don't support and that could hurt their group.
First is the princelings faction, children of former top officials. Princelings have often used the positions of their parents to their advantage. They—or their family members—have frequently been enriched either through formal positions in large state enterprises or, more commonly, through private ownership holdings that the outside world rarely hears about, according to Hu at the Beijing Institute.
The princelings have typically spent time overseas and are more open to Europe and the U.S. Many of the most senior princelings were posted early in their careers to some of China's newly opened coastal cities and were exposed to market forces and foreign investors. Vice President Xi was sent to the city of Fuzhou in Fujian; Bo, whose father was a top revolutionary leader, to Dalian; and princeling Yu Zhengsheng to Qingdao, all of them cities that encouraged outside investment. This experience makes them open to better relations with industrialized countries, surmises Li. On the other hand, their connections to state enterprises could limit their interest in opening up the economy more, according to Hu. Many owe their positions to Jiang, who, though not a princeling himself, developed relations with senior leaders such as Xi's father, reformist former Vice Premier Xi Zhongxun.
Among the likely members of the upcoming Standing Committee, Li Keqiang and Wang Yang (if he makes the final cut) may be the only acolytes of President Hu. They rose through the ranks of the 78-million-member Communist Youth League. Hu, who once headed the organization, is its patron. Li, the likely premier, also once led the league. Compared with the princelings, the Communist Youth League faction has had less contact with foreigners and tends to be more interested in social stability at any cost.
There most likely will be reformers on the next Standing Committee, starting with Xi. One recent sign: According to Cabestan, Xi met with reform advocate Hu Deping, son of former Party Secretary Hu Yaobang, who was forced to resign in 1987.
Wang Qishan, nicknamed by the state press the "firefighter" for the emergencies he's tackled, knows how to get things done in a crisis and is expected to win a Standing Committee seat. He's seen as a reformer who wants to move China more quickly toward a modern economy. He's had lots of contact over the years with Henry Paulson and Timothy Geithner, the former and current U.S. Treasury secretaries, and other western finance officials and CEOs. Wang Yang, says David Kelly, research director at consulting firm China Policy, advocates a stronger civil society to deal with social tensions. Li Yuanchao, who handles recruitment and promotions for the party, has pushed to make appointments based more on candidates' actual experience than on their connections. He's talked of the need for intraparty democracy.
Only one candidate for the Standing Committee is widely considered conservative—Zhang Dejiang, educated at Kim Il Sung University in Pyongyang, North Korea, and known as a proponent of keeping a strong state sector, according to Cabestan. Zhang previously ran Guangdong, where he was known for cracking down on the province's media as well as mishandling protests by villagers over state land grabs, according to Barry Naughton, an economist at the University of California at San Diego.
If the new Standing Committee does try serious reform, it will face a stiff challenge from the establishment of which it is a part. As Cabestan says: "The vested interests have a lot to lose and not much to gain from change."
Before it's here, it's on the Bloomberg Terminal.
LEARN MORE