Barnes & Noble's New Nook Tablets Sell 'Discoverability'
Laura Hazard Owen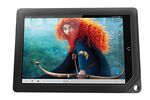 Barnes & Noble's two new Android Wi-Fi tablets, the 7-inch Nook HD and 9-inch Nook HD+, aim to compete with other moderately priced tablets such as Amazon's Kindle Fire and Google's Nexus 7. The Nook tablets, starting at $199 coming available in October, differentiate themselves most from competitors when it comes to some new reading and "discoverability" features.
"We're Barnes & Noble, and books is one of our main categories," Theresa Horner, B&N's vice president of digital content, said at a briefing on Tuesday. I'd say it's the main category—but either way, the company is using reading and recommendations as a selling point for the new tablets.
Barnes & Noble is in a weird position because it is neither the iPad nor the Kindle Fire. "You have an iPad; I have one," said John Basanese, director of software QA engineering, at the briefing. The Nook HDs clearly aren't in the the same category as the iPad. But they're in the same range as a bunch of other budget tablets, and Nook devices haven't been as popular as Kindles. So how shall Barnes & Noble promote them? They do this by touting the tech specs—"the lightest, lowest full HD tablet ever," with a display designed to take advantage of the new Nook Video—but also by promoting family-friendly and reading features.
First, the specs: The Nook HD has a 7-inch screen with 1440 x 900 resolution and 243 pixels per inch and supports 720p HD video playback. It comes in an 8 GB model ($199) and a 16 GB model ($229). Its battery life is up to 10.5 hours for reading and up to 9 hours of watching video.
The Nook HD+ has a 9-inch screen with 1920 x 1280 resolution and 256 pixels per inch and supports 1080 HD. It comes in a 16 GB model ($269) and a 32 GB model ($299), both of which are cheaper than the new Amazon Kindle Fire HD with Wi-Fi. Its battery life offers up to 10 hours of reading and up to 9 hours of video.
Both tablets have expandable memory, up to 64 GB, and both have Wi-Fi and Bluetooth. No 3G, no 4G, no GPS.
In the U.S., the tablets can be pre-ordered, starting Wednesday, and will ship in late October. They will become available in the U.K. in late November.
The company declined to discuss whether earlier Nook tablet models will get price drops with the launch of the new devices, but Chris Peifer, vice president of digital development, said the Nook Color is "very close to its end" and the company is no longer making new ones.
On to those family-friendly features: "The average American woman's hand is 172 millimeters," and B&N says it designed the Nook HD so that the average women can easily hold it in one hand. This means the Nook HD is longer and skinnier than the Kindle Fire. (Both have the same size screen, but the Kindle Fire has a wider bezel.)
At the briefing, company reps spent a disproportionately long time focusing on "family profiles," which let parents and kids (up to six accounts total) share one device. Adults who create profiles for children can set limits on what their kids can and can't do on the tablet. For example, parents can completely ban shopping or allow "kid-friendly" shopping, which lets children access only "safe" content from a pre-selected list. (Basanese mentioned "some self-published content" as an example of content that would not be kid-friendly.) The new Kindle Fires contain similar kid-limiting features.
Until now, said B&N's chief Nook bookseller, Jim Mustich, the company hasn't translated into its devices "all of the knowledge that makes our stores gathering places for people and allows people to discover things." In other words, how do you bring a brick-and-mortar bookstore experience to a tablet? "We're tapping into the human knowledge of Barnes & Noble and our booksellers," Mustich said.
So now you can browse Barnes & Noble's store from directly inside a book. If you're reading a Rachael Ray cookbook, for example, tap the bottom of the screen to pull up other books by her, along with similar titles. "We're trying to integrate that shopping experience from right inside the book," Horner said. "We don't require somebody to go to the shop."
The company is introducing "Nook Channels," curated collections of books that "speak to a certain type of reading or a certain type of content." Mustich said the company had the idea when he and B&N Chief Executive Officer William Lynch were in an elevator and Lynch mentioned that he'd liked Ernest Hemingway's The Sun Also Rises and wanted to read other books like it. If you look up that title in other online bookstores, Mustich said, "you get a high-school reading list—books like The Great Gatsby—when what you really want is James Salter." The channels have titles like "Digging into Murder," "Jane Austen & Heirs," and "International Intrigue." Each contains 40 to 50 titles, most curated by Barnes & Noble booksellers. The channels will eventually include other types of content, too (such as movies), and users will be able to improve recommendations by 'liking' or 'not liking' books that pop up in their stream.
It's our job to "tease out what the reader likes," Mustich said. "We really want the discovery process to be associated with the Nook."
Similarly, on the home screen of the new Nook HDs, there's a "Your Nook Today" button. Tap it and it pulls up the weather in your city, a book recommendation based on the content on your device, and "a three-minute read"—a short piece of editorial content that Mustich described as "a small way to promote engagement."
With the new tablets, Barnes & Noble is improving its magazine-reading experience and also adding about 100 catalogs from such retailers as L.L. Bean and Pottery Barn for free browsing. Users can pinch out to view a "visual table of contents, and tap products in a catalog for online purchase. In a Pinterest-inspired feature, they can also "rip out a page" from a catalog or magazine by swiping their finger down the screen. This adds the page to a "scrapbook" that can be accessed from the tablet's home screen, so users can create inspirational idea books on different themes. This works only on catalogs and on magazines that you purchase; it doesn't apply to books, and the scrapbooks can't be exported to Pinterest or as PDFs, which limits this feature's usefulness. Still, it's interesting to see a tablet incorporate curating and pinning features.
Also from GigaOM:
Forecasting the Tablet Market: 377 Million Units by 20116 (subscription required)
Apple's IPod Touch Lets Committed Android Owners Flirt with IOS
Why Design is the Key to the Connected World
What a Plagiarism Epidemic Says About the Decline of Print
Google Powers a Data Center with Wind for the First Time
Before it's here, it's on the Bloomberg Terminal.
LEARN MORE