Will NFL Bettors Be Scared Away by Shaky Officials?
Millions changed hands on a very bad call on Monday night.
by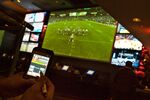 The slow burn of anger and bafflement over the lockout of National Football League officials and the shaky work of their replacements now working regular-season games turned into a raging fire last night after a very high-profile gaffe on the final play of the game between the Green Bay Packers and Seattle Seahawks. The image of two replacement officials standing over the scrum of players in the end zone after Seattle quarterback Russell Wilson's Hail Mary pass, and simultaneously making opposite rulings on the play, became an instant emblem of scab incompetence and may very well force NFL Commissioner Roger Goodell to strike a deal soon. If not, he can add bettors and bookmakers to a list of disgruntled constituents that already includes union officials, coaches, players, and fans.
"There's a bad taste in their mouths right now," says Johnny Avello of his customers at Wynn Las Vegas sports book. Avello guesses that the decisive call awarding the Seahawks a touchdown last night may have swung $150 million worth of bets, taking into account Vegas, online, and illegal wagers. He says he hasn't seen a slowdown in NFL bets this season: "The betting pattern to me so far in the NFL, I see no change whatsoever." But after Monday, he's worried. Betting the NFL has begun to look a bit like wagering on the Celebrated Jumping Frog of Calaveras County. "If you throw these guys in there again next week," Avello says of the replacement officials, "and we'll see if people decide to take a break." He's hoping not to find out. "I would like to see the regular refs come back," he says. "I think it would instill more confidence in the bettors."
One overseas house, according to the New York Times, is giving free play to bettors who backed Green Bay—probably more publicity stunt than act of justice. The Wynn Las Vegas is not refunding any bets. Avello says he will carry on setting his lines as usual and hoping for the best. "How are you going to handicap a ref's ability on the field?" he asks. "How do you even throw that into the equation? I can't use that at all."
Before it's here, it's on the Bloomberg Terminal.
LEARN MORE