Peter Coy for Governor of the Bank of England!
By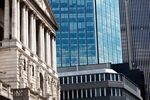 My boss, Editor Josh Tyrangiel, put me up to this. I got to my desk this morning and found a ripped-out want ad from Her Majesty's Treasury notifying job-seekers that "the position of Governor of the Bank of England will fall vacant when Sir Mervyn King retires in 2013." On the ad was a yellow Post-it note saying,
Peter—
Josh suggests
you apply …
How flattering! Well, it's not like Mervyn King has done such a great job. He kicked off the financial crisis by letting Northern Rock suffer a bank run in 2007, and the scandalous misreporting of Libor occurred under his nose. Maybe, just maybe, I could land this job and be done with the dirty work of journalism forever. (Or maybe Josh was subtly hinting that it was time for me to move on. Still not sure.)
Anyway, so began two hours at the intersection of central banking and journalistic stuntsmanship, in five chapters.
CHAPTER ONE: I DOWNLOAD THE APPLICATION
I follow the link listed in the ad, which appears in the Economist, about which the less said the better. The position is buried under 10 other listings, after an opening for an independent claims examiner in Liverpool for the Department of Work and Pensions. Not to be a snob, but doesn't such an important position deserve more prominent placement? Then I notice that the closing date for the posting is listed as 08/10/2012. Are they trying to throw American applicants off the trail by making them think the opening expired Aug. 10, when it's really open until Oct. 8? It'll take more than an obscure listing and an anti-American date format to shake me off.
CHAPTER TWO: I CALL THE BANK OF ENGLAND
The public relations man, Rob Elder, explains that the candidate search is being handled by H.M. Treasury, not the Bank of England. He e-mails me a phone number to call at Treasury but inexplicably leaves off three digits. I figure out what's missing (207) and write back to inform him of his "mistake." He responds, "Sorry for that, typing in a rush …" Yeah, right.
CHAPTER THREE: I CALL THE TREASURY
The spokesman at Treasury explains that the governor's position was posted publicly, for the first time in the bank's 318-year history, to promote "transparency" and to get the best possible candidate. But isn't the government worried about getting deluged with applications from unqualified cranks like, say, me? "Any selection process you're going to get a few people like that," he says. "The important thing is the filtering process." To me, the important thing is being reassured that I don't have to be a British citizen to get the job. There's hope.
CHAPTER FOUR: I START FILLING OUT THE APPLICATION
OK, this could be a problem. They want to know qualifications. Zippo, unless you include standing on the outside of central banking, peering in through the tinted windows. That doesn't impress anyone. As Teddy Roosevelt said, "It is not the critic who counts. … The credit belongs to the man who is actually in the arena." As for financial experience, I have to hope that being treasurer of the Demarest Nature Center will carry some weight. The cover letter is a bit of an issue, too. I'm supposed to cover "your approach to the job." All I can think of is installing one of those big, brass engine room telegraphs in my office on Threadneedle Street, and setting monetary policy by moving the lever between full ahead and full astern. Um, yeah, I guess that's kind of lame.
CHAPTER FIVE: I REACH DAVID BLANCHFLOWER BY PHONE
Blanchflower is a British-born economist at Dartmouth College who served on the Bank of England's Monetary Policy Committee from 2006 to 2009. He's also a contributor to Bloomberg Television. I get him at a hotel in Frankurt, where he was stranded by a missed flight. Turns out he had spoken to Bloomberg TV's Maryam Nemazee in London earlier today. (Start watching the clip at 7 minutes, 15 seconds.) Blanchflower thinks the want ad is silly. Anyone who's remotely qualified for the job is already well-known to the searchers, he says. He says he learned he was under consideration for the bank's rate-setting committee when he read about it in the Financial Times. "Why do they need an application form?" he asks. "How many foreign languages can you speak, and can you do ballet. It's stupid!"
Come to think of it, the want ad does smack of a certain desperation on the part of the British government. "I think it would be an absolutely awful job," says Blanchflower. "The government is tightening. All the weight's on you to counteract that. You're set up for failure. I wouldn't touch the job with a 10-foot pole."
You know, maybe he's right. I've always lived by Groucho Marx's motto: I would never belong to a club that would have me as a member. I think I'm going to suspend my application. If the Brits really want me to run their central bank, let them come and beg. Meanwhile, Josh, I'm all yours! … Hello? Josh?
Before it's here, it's on the Bloomberg Terminal.
LEARN MORE