My Worst Job: Ty Burrell of 'Modern Family'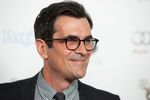 I didn't start acting until I was 22. Before that I was sailing from job to job. Including, I was a forest firefighter for a summer. I was 19. Just imagine the most frightened, passive person on earth trying to fight forest fires. My mom was a teacher and, because a teacher's salary is not great, one of her co-workers, Eric, would fill his summers as a firefighter. He took me on, not realizing I lacked the mettle to fight fires.
We were on the relief crew, which meant we'd go to two places for two days, and then one day we'd take supplies up to the lookout station, way up on the top of the mountains. I don't know if you've ever read The Dharma Bums … Kerouac gave an accurate description of that whole, isolating world. The folks that we were bringing supplies to were incredibly eccentric, alone for the whole summer. They were hard-boiled. Very self-sufficient. Very Oregonian.
But they were nice. The hotshots didn't completely cotton to me. The hotshots were the guys who were a little on edge, a little nuts. They could smell my weakness. Several of them I think were on the lam. There was a criminal element there.
Our first fire was a log truck on Interstate 5. We had to drive up to it. When we got to the truck, the fuel tank on the side of it was on fire. Flames were shooting out of the opening of the tank. Eric put me in front of him on the hose and started to walk toward the fire, and I started walking in the opposite direction—which I think is natural for a human being.
Instead of fighting the fire, he and I ended up being a human lean-to. I was pushing on him and he was pushing on me, because he knew we had to put out the fire. He also knew that it wasn't going to blow up. I guess because it had an oxygen release. I don't know. All I saw was a big thing on fire, and I felt that all of us should get as far away from it as soon as possible.
Eventually, he was stronger than me and he pushed me close enough to the fire to extinguish it. So not only did I fail to fight the fire, but I also failed at running away. I was not a tough guy, but I was around a lot of tough guys, and it made me feel like a tough guy. It forced me to be courageous.
I loved telling people that I was a forest firefighter without them ever knowing how that actually went down. As long as I wasn't pressed for details, it was the coolest thing to say. If anybody asked about specifics, that didn't end as well. —As told to Marnie Hanel
Before it's here, it's on the Bloomberg Terminal.
LEARN MORE