Glencore-Xstrata: The Real Issue
Julian Birkinshaw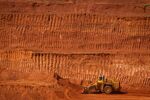 The $35.1 billion Glencore-Xstrata merger saga continues to rumble on, with the Xstrata board delaying its response to the proposed takeover by another week to resolve management and board issues at the new company. All the political and personal intrigue in this deal is masking the much bigger issue, namely the imminent sell-off of the mining sector. Some investors seem to be worried about whether their holding should be in Glencore or Xstrata stock. My view is: Short them both.
It's no secret that the mining industry is heading for a fall. China's economy has driven the decade-long super-cycle in metal prices. But China's growth is slowing to perhaps 6 percent to 7 percent a year, and infrastructure spending is slowing more quickly than that. The iron ore spot price has dropped 35 percent from its peak in 2011.
How are the mining companies responding? There is some belt-tightening going on, for sure. BHP Billiton just shelved a $30 billion investment in a copper and uranium mine. Fortescue Metals Group laid off hundreds of workers, and cut back expenses on everything from airport parking to the company-funded barbecues. But it won't be enough. During the 15-year boom in the mining industry, expenses rose at least fivefold. Every expense from worker pay to infrastructure, shipping, and equipment has mirrored the increases in commodity prices. Prices can drop overnight, but costs take years to correct themselves. Xstrata and Glencore are heading for tough times.
The real issue here is the supreme inability of companies to respond quickly to changes in their operating environments. Markets are designed to allocate resources quickly according to changes in supply and demand. But companies have team-based decision processes that make it hard for them to agree on the need to change, and even harder to respond effectively. Layoffs, closures, reallocation of resources, cost-cutting exercises: All of these are politically charged debates between people with vested interests and personal loyalties.
There are no easy ways to generate the agility you need to overcome corporate inertia. You can choose to ride the waves aggressively—investing in good times, cutting back in tough times—but if that is your strategy, you need to keep a close eye on your fixed costs. "Efficiency and low costs are the best insurance you can have in a turbulent environment," according to Marcel Telles, former chief executive officer of Anheuser-Busch InBev. "We always say that when the storm comes and everyone else is drowning, we want to hold our breath longer."
Or, you can take a longer view, investing through rather than with the business cycle. Ford, for example, took on $23 billion of debt during the financial crisis, and is reaping the benefits now. But this is a high-stakes game because it often means going against the market, investing during a downturn and easing back when the market is at its peak.
Ironically, even though markets are famous for their boom-and-bust cycles, it is the corporate investment cycle, and the inertial forces that accompany it, that creates the bigger headaches for management.
Before it's here, it's on the Bloomberg Terminal.
LEARN MORE