B-School Twitter Roundup
Alison Damast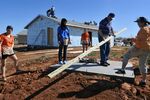 This week's Twitter roundup of happenings in the business school world includes lessons learned during the first week of business school, some of the most common myths Europeans hold regarding American business programs, and new salary data on specialized  business master's degrees.
Eileen Borris, an adjunct professor at the Thunderbird School of Global Management and an internationally trained conflict resolution facilitator, is one of the 25 women on Good Business New York's "Leading Women of 2012″ list, which honors women leaders trying to solve critical social and economic problems (@Thunderbird, 9/19).
Alexis Mellon, regional director for Europe for Duke University's Fuqua School of Business, shares five of the most common preconceptions that European students have about getting an MBA degree in the U.S. (@DukeFuqua, 9/20).
Bucking the trend at most MBA programs in the country, George Washington University's School of Business reported an uptick in applications for its full-time MBA program of 15 percent this year (@gwbusiness, 9/20).
The median salary employers expect to pay new hires with business-related non-MBA master's degrees is 20 percent higher than what they plan to pay new hires with bachelor's degrees (@GMACResearchers, 9/20).
A new suite of 10 paintings commissioned by an alumnus for the University of Pennsylvania's Wharton School gives viewers a glimpse of some of the most important moments in the life of Joseph Wharton, the school's founder (@Wharton, 9/20).
Stella Fayman, a first-year MBA student at the University of Chicago's Booth School of Business, blogs about some of the lessons she learned during her first week of business school (@Booth_Insider, 9/20).
About 20 percent of freshmen at the University of Arizona this fall are pre-business, the most popular major so far among incoming students (@EllerCollege, 9/21).
Pixable, a provider of social photo-sharing technology founded by three MIT alums including Chief Executive Officer Inaki Berenguer, a 2009 Sloan School of Management graduate, was recently sold to Singapore Telecommunications for $26.5 million (@MITSloan, 9/22).
The Association to Advance Collegiate Schools of Business is holding its annual accreditation conference this week in Atlanta. One of the sessions will discuss how the group's Blue Ribbon Committee on Accreditation Quality can provide better guidance to schools considering launching distance-learning programs (@AACSB, 9/23).
Students, faculty, and alumni from Indiana University's Kelley School of Business will be among those working with Whirlpool to build a new Habitat for Humanity home in early October that will be dedicated right before the start of the Indiana University football game against Ohio State on Oct. 13 (@KelleySchool, 9/24).
Join the discussion on the Bloomberg Businessweek Business School Forum, visit us on Facebook, and follow @BWbschools on Twitter.