This Consultant Aims to Make It as a Travel Blogger
By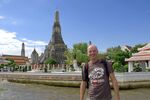 From his spot on the 26th floor of an office in Calgary, Raymond Walsh would look for human corpses in the river below, hoping to have an interesting story to tell his friends about his day. He never did see a body, but leaving the corporate world eventually made life more satisfying. Walsh, now 43, quit his job in July 2011 at IBM, where his final stint was as a learning consultant, to travel the world and earn a living as a blogger.
His travel blog, Manonthelam.com, gets about 15,000 views each month. Walsh blogs two to three times a week, earning income from advertisements and sponsored content while freelancing for publications. He also rents out his home in Calgary, though he says most income comes from the blog.
For trips, he packs a 55-liter backpack with a $400, 14.1-inch Toshiba computer, a $500 Pentax camera, an Android cellphone, a pair each of shoes and sandals, a few changes of clothing, and toiletries. "I'd like a nice outfit," he says, but there's no space.
Walsh, who speaks English and some French, had already traveled to more than 30 countries before restarting his career and has since increased the total to 44. In the last year he has spent months in Southeast Asia, visiting Thailand, Indonesia, Cambodia, and Vietnam.
He learned how to hunt and eat a rat, got smooched by a "ladyboy," and tried many varieties of alcohol. While Walsh travels alone, he says: "It's better than what I expected. I didn't know how good a group the travel-blogger community is." Fortunately, he has not yet been pick-pocketed.
Currently in Muscat, Oman, Walsh doesn't know where he will go next. Amid so much moving around, he's unsure sure how he'll file taxes, but that's not a primary concern. He calls becoming a full-time travel blogger "the best decision I ever made," though he admits: "My family still thinks I am crazy."