The Guy Behind the Asian Night Markets in Los Angeles
By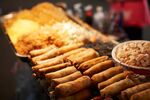 Forget food trucks. Nighttime street markets are the latest culinary phenomenon, at least in Los Angeles. Fashioned after late-night street markets popular across Asia, 626 Night Market brings ethnic food and retail vendors to nostalgic immigrants and L.A. foodies. Started by Jonny Hwang, a 32-year-old Taiwanese-American, the name references the area code of the San Gabriel Valley, a majority-Asian suburb of Los Angeles. Hwang's first event this spring was nearly derailed by massive turnout and he found that when you live by social media, you can also get burned by social media. I spoke recently to Hwang, whose day job is in business development for an entertainment company. Edited excerpts of our conversation follow.
Your first event last April, with 30 food booths and 50 retail vendors, drew 20,000 people to one short block in Pasadena, Calif. It tied up the streets for hours and caused a huge crush of foot traffic. What happened?
We got lucky that nothing catastrophic happened; we think about 10,000 more people were turned away. I had less than an hour of happiness before we got overwhelmed.
We originally anticipated 10,000 to 20,000 attendees but the city event planners laughed. They've worked with a lot of first-time events and they told us we'd get a few hundred to a couple thousand people. We figured the space we had booked would be OK to handle that.
How did you get such a big response?
My wife and I love the night markets in Taipei and we wished we had something like that here. So we launched in October 2011 with no budget, funding this from our personal savings. We created a website and a Facebook page and starting spreading the word on social media. For a month or two, we couldn't get any vendors: We had no experience doing this, no background in event planning; no one wanted to take a chance on us. We lowered our rates from $300 to $150. We were ready to give up or postpone because we were so discouraged.
Then one day, I was out of town in meetings and my phone kept ringing. By the time I could answer, it turned out our event had gone viral. Word had spread on social media and we were getting inquiries from vendors who wanted in.
You seem to have tapped into a recent surge of Asian-American popularity. Did you plan that?
I do notice something happening, especially with people in their 20s and 30s who used to be a bit embarrassed with being associated with an Asian enclave; they wanted to be just Americans and fit in. But in the last couple of years there's a rising sense of pride about being Asian-American.
About a month before our event, a rap video about the 626 went viral on YouTube from the Fung Brothers. That contributed to the hype around our event, even though it was unrelated to what we were doing. Young kids, in high school and college, started telling their friends about it and they told their parents who own businesses that they should sign up.
Those young people using social media really set your event up for success, but it seems the tables turned quickly after that first event.
I think we hold the world record for most one- and two-star reviews on Yelp. There were 300 negative comments within about two hours because people waited in long lines, the vendors ran out of food, and other people couldn't even get close. Some of the complaints were ignorant and racist, like "You people are not wanted here."
We tried to take it in stride and figure out if that was something we could recover from. A handful of commenters really supported us and told us we were onto something and should try again, so that got us fired up to keep going.
You had a successful second event in a bigger venue in July and a third coming up next month. Are the markets profitable?
Not yet. We have about a dozen friends and high school kids on staff working on a volunteer basis. Our goal for the upcoming market is to get them paid. I haven't recouped my initial investment. We are experimenting a lot with venues and price points for our vendors.
The third event will be our biggest yet and the upfront cost is about $100,000. It's a difficult thing to pull off until we can do regular markets and get economies of scale, but we're still figuring out whether the demand is there.
Do you see this as a long-term business venture?
I'd like it to be; it's very satisfying. One thing we've noticed is that the Asian community is very competitive. You've heard of tiger parents? They're not so used to cooperating. This event has brought the community together because they want us to succeed and they're supportive of what we're doing. That's a new thing and it's something we'd like to continue.
Before it's here, it's on the Bloomberg Terminal.
LEARN MORE