Q&A: Dunkin' Donuts' Creative Willy Wonka
By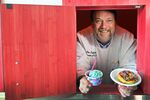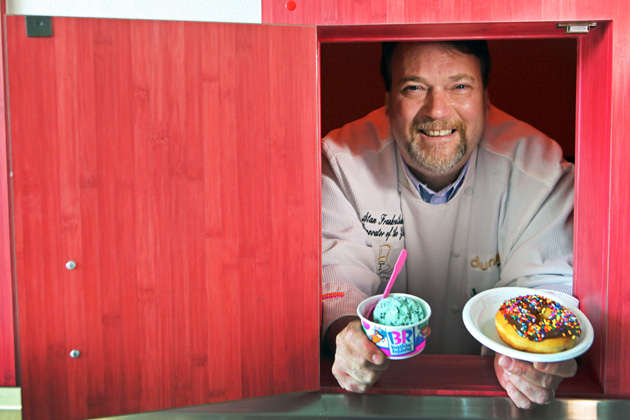 Before Stan Frankenthaler became executive chef and vice president of global product innovation at Dunkin' Brands, he was a three-time James Beard award nominee. In 2005, he left behind white tablecloths to shed fine dining expertise on the Canton, Mass., company's lineup, including coffees, donuts, and ice cream. Dunkin's strategy includes a constant rotation of limited-time options, and Frankenthaler's team of roughly 20 chefs keeps busy launching about 25 new items every year at Dunkin' Donuts, plus roughly 18 new items at Baskin-Robbins in the U.S. alone.
Under his watch, Dunkin' has launched such hits as the Big N' Toasted breakfast sandwich in the U.S. and expanded overseas with pork donuts and bubble tea in China. As the team prepares to roll out two new fall coffee flavors next week—Pumpkin White Chocolate and Pumpkin Mocha—and puts final touches on a recipe for a nutty cream cheese brownie ice cream that Baskin-Robbins will launch in November, Frankenthaler talks to Bloomberg Businessweek about the challenge of churning out new recipes without creating "frankenfoods."
Tell me about a menu item you introduced that bombed.
Last year's apple-caramel donut, I thought, would do better than it did. We partnered a latte with it. We got good feedback on the flavor, but we were in too small of a niche, maybe. This year we decided we'd tug at the heartstrings and did an apple orchard donut, which is like a cider donut and really has the flavor and appeal of going apple picking. We hit a bigger group of people. Maybe it was the nostalgic value. Little shades of differences like that make one more successful than another. Gingerbread has a similar story. Two or three years ago we did a gingerbread latte and donut and they were great, totally made me think about my grandmother. But for some people, maybe they thought, "O.K., I've had one. I've celebrated the season." At Baskin, we did a flavor called Firehouse 31, based on the Red Hot cinnamon candy. When it came out, it was one of those real love-them or hate-them flavors. I'm O.K. with that.
That pancake wrapped sausage—I couldn't do it.
That did better than people thought. That was big. It had to do with the time of year. [It was introduced in November 2010.] We wanted it to come out at a busy shopping time. People rely on us for on-the-go eating, and the Sausage Pancake Bites were the perfect two-bite size, pop-able snack. You could have them walking, have them in the car. We've been successful with items that were on the plate and come off the plate. I love pigs in a blanket, and that was the starting point for this item.
When I go to Dunkin' Donuts, I never stray from my staples: toasted almond coffee and an old fashioned stick or French cruller. Are traditional customers like me annoying?
Our customers are ritualistic. I would say mostly they are anchored around their coffee and dabble around the bakery case and maybe try a breakfast sandwich one day. Same thing happens on the Baskin-Robbins side: We have these pink-spoon tastings, so people will come in, try the new flavor, and then order Very Berry Strawberry. That's why we have so many choices. Part of new flavors is definitely about reinforcing our position as a leader in the marketplace, and new always drives interest. Whether every customer takes that new flavor, we really don't expect them to. They love their tried-and-true.
How do you manage innovation without creating "Frankenfood?"
When I had a restaurant, we did a lot of fusion cooking. We said fusion is about learning about new flavors,respecting the cultures and cuisines they came from, and appropriately fusing them. It's not about con-fusion. That was the easy thing people were doing in the '90s.
How do you negotiate donuts and ice cream—your core products—with America's obsession with weight and fat?
We do have some items that are low fat. All of our cream cheeses now are reduced fat. We have a menu panel called DDSmart. It's a good place to gather those better-for-you choices, but we also have choices across all the categories: we have 9 oz. beverages, munchkins, wake-up wraps that start at 150 calories. At Baskin-Robbins, we have smaller sizes, frozen yogurts with live and active cultures, and Premium Churned Light is half the fat. As a chef, one of the things we challenge the team with is: The consumer needs to crave them. Anyone can "science" a low-fat recipe, but doesn't mean people will love it, crave it, want it again. The restaurant industry thrives off of repeat customers. We've had an uptick in sales across all of those categories.
Baskin-Robbins sales fell in recent years. What will you do about that?
The whole ice cream category has fallen in general. We've had several quarters of positive sales. There's been a huge increase in commodities costs like sugar, cream; combined with more consideration around my food choices, these have really affected the whole ice cream category. At Baskin, we're not just working with flavors, but opening up our cakes. We used to be for kids' birthday parties. Now we're more sophisticated. We have cake bites finished with a chocolate ganache; there's a nice elegance to them.
What's your favorite thing to eat at Dunkin'?
I start my morning with a coffee: hot, cream only. Then I switch to an iced coffee or iced latte in the afternoon. My favorite donut is the French cruller. It's such an amazing donut and so unique. I love renegade things like asparagus, and artichoke, and French crullers. At Baskin-Robbins, I am a huge fan of Jamoca Almond Fudge, and I've had it for breakfast.