MBA Journal: From Law to Business
Thomas Sneed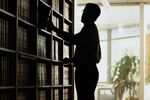 When I tell people I am enrolling in a part-time MBA program, facial expressions often reveal their true feelings: What are you thinking? Of course, I am often telling this to academic law librarians, a group very different than most in the traditional business world. But the question is still legitimate: What am I thinking?
The majority of my working life has been spent in the legal profession. I have worked as a law clerk for a trial court judge, as a transactional attorney with a focus on real estate, and now as an academic law librarian. I even spent some time with a state government agency that will remain nameless. I have had numerous work experiences, but nothing really stood outside the legal realm. On the personal side, I have a wonderful wife and a two-year-old son, and we just recently moved with our three dogs to a new city.
So why the MBA? While I have 15-plus years of work experience, my skill set has been limited to a very specific area. I realized early in my second career as a law librarian that the only way to advance is to be willing to take on leadership positions without any real managerial experience. In the next few years, I want to be in a position to take the next step in my career; the MBA will certainly be a credential not typical in my field that will set me apart in a very meaningful way. The experience will also give me the opportunity to step outside my comfort zone, learning not only from classes, but from other professionals around me. They will certainly provide a robust learning experience.
My decision regarding a business school is extremely pragmatic, as I will be attending the Goizueta Business School at Emory University. I looked at other programs in the area, but several things stood out about Emory: cost, location, and the school's high-quality reputation. As an Emory employee, a large percentage of my tuition will be covered, minimizing the financial impact to my family. I live a little over a mile from the school, which is also across the street from my job. A long commute for school would have detracted from any work-life balance. Finally, Goizueta is a strong school academically, with an excellent reputation. If I am going to do this, I want a degree that will provide a challenging and rewarding academic experience, along with strong name recognition.
Just what am I thinking? I am thinking I can add a strong business skill set to my portfolio, earn a degree from a top school with limited financial hardship to my family, and possibly make some friends and have fun on the way. For a lawyer-turned-librarian, I think the MBA is an adventure worth pursuing.
Between journal entries, you can keep track of Sneed's business school adventures at the Business Schools Facebook page. Follow the Bloomberg Businessweek B-Schools team on Twitter.
Before it's here, it's on the Bloomberg Terminal.
LEARN MORE