business
Cheaper Lightning for the IPhone 5
By
Cheaper Lightning for the IPhone 5
By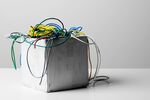 Last week, I wrote about how Apple's new Lightning connector signals the end of docking your iPhone, as almost all data can be transmitted wirelessly.
But you still have to charge the thing, don't you? And if you're like me, you keep charging cables all over the place. At last check, I have a charging cable:
• in my bag;
• at my desk at work;
• by my bed;
• in the kitchen;
• in my car;
• in my second car.
Plus a couple more in a drawer, just in case. That's upward of six cables. If you went to Apple to buy their Lightning to 30-Pin Adapter, you'd have to shell out $29 for each of them. That's $174 for a half dozen—almost as much as a new iPhone with a two-year contract. Apple also sells a Lightning to 30-Pin Adapter cable, with the wall-outlet plug included, for $39—which would bring your total to a hefty $236 if you bought six of them.
But I discovered a workaround for most situations, and it's from Apple itself. Instead of getting the adapter for $29, or the cable-and-plug kit for $39, you can buy just a Lightning to USB Cable for $19. For charging purposes, it's perfect: It's compatible with all the existing plugs you've been using to charge other iOS devices, it dispenses with the awkward adapter housing, and it's $10 cheaper to boot.
Unsurprisingly, Apple doesn't really promote this product. On the iPhone product page is a section on connecting the iPhone to legacy accessories, but here's what Apple does (and doesn't) say about the matter: "Soon many iPhone accessories will be Lightning compatible. But if you have one that depends on the 30-pin connector, you can still connect it to your iPhone 5. Simply use a Lightning to 30-pin Adapter (sold separately)."
That's not untrue, but it leaves out a less-expensive option and can result in spending more than you need to. Get the $19 cable instead.