Britain's Latest Bid to Help Small Businesses: A New Bank
by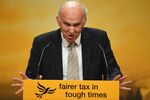 Since the financial crisis arose four years ago, when governments in the U.S. and the U.K. bailed out their biggest banks with hundreds of billions of dollars, policy makers have struggled with a lingering question: Did those bailouts do enough to help small businesses that depend on banks for loans?
British Business Secretary Vince Cable answered with an emphatic "no" on Monday in a speech to his party, the Liberal Democrats—and he called for a new government-backed bank to help.
"Our leading banks are often anti-business, especially anti-small business," he said. "We need a new British business bank with a clean balance sheet and an ability to expand lending rapidly to the manufacturers, exporters, and high growth companies that power our economy."
Cable said the bank would use £1 billion ($1.6 billion) of government money and raise at least as much from private sources. The new plan, the latest in a series of interventions by the British government to increase lending to businesses, remains short on details. The Telegraph reports that the new institution "will effectively fund new 'challenger' banks" with guarantees to compete with the big U.K. lenders. By guaranteeing loans (as the U.S. Small Business Administration does), Cable said the new bank could support up to £10 billion of lending to small and mid-sized businesses. He hopes to have it running in 18 months.
To put the plan in perspective, five large British banks (including Barclays, HSBC, and RBS), together loaned about £75 billion to small and mid-sized companies last year (those with less than £25 million in revenue). That figure, which includes unused credit lines, was close to the banks' goal under Project Merlin, an agreement between lenders and the government to expand credit.
Cable's proposal could substantially increase the amount of government money flowing to small business loans and guarantees. It could also support a new breed of lenders in the U.K. and give entrepreneurs there more competitive options for loans. Whether it will succeed any better than the rest of the British government's attempts to bolster small business remains to be seen.
Before it's here, it's on the Bloomberg Terminal.
LEARN MORE