The Era of Retail 3D Printing Begins
by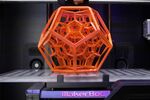 A quirky kind of store has opened up at 298 Mulberry Street in downtown Manhattan. It's the first retail location for MakerBot, one of the leading consumer 3D printer companies. People can come in, look at a variety of printed objects, and buy 3D printed knickknacks like watch bands and little plastic squirrels for their friends. They can also check out the just-released Replicator 2 printer from MakerBot that costs $2,199 and lets people build larger, more precise objects than its predecessors could. (It's aimed at professional designers who want an object factory on their desk.)
I've been waiting a while for one of the 3D printer makers to go the retail route, and it's quite something to see the initial store appear in New York. Through MakerBot and Shapeways, in particular, New York has emerged at the hotbed of the consumer 3D printing scene. (Shapeways is sort of like the Amazon.com of 3D printing. It lets people order objects made out of plastic, glass, metal, and other materials, and then prints the objects and mails them off.) Later this year, in fact, Shapeways will also open a 3D printing factory in Long Island City and have an area where people can see how these objects get made.
Silicon Valley, for some reason, has shown very little interest in 3D printing. There's a couple of startups like Bespoke Innovations, newly acquired by the giant 3D Systems (which I profiled earlier this year); and Made In Space, a company that is experimenting with zero-gravity 3D printing so that one day space missions could save weight by printing objects they need after launch. Overall, though, venture capitalists have ignored the technology, and even a printing giant like Hewlett-Packard has only managed a reseller deal around commercial 3D printing systems. It's said nothing about making its own machines or having consumer aspirations.
To have a look at how good the consumer models have gotten, check out Bre Pettis, the MakerBot chief executive officer, in this demo of the new Replicator. Or have a peek at the Cube from 3D Systems, which costs $1,299. With these two systems, the hardware has started to move well beyond the crude, hobbyist stage. Just as important, the software is catching up, so that true amateurs—and not just engineers—can design their own models and print them with relative ease.
Before it's here, it's on the Bloomberg Terminal.
LEARN MORE