Rival B-Schools Hit the MBA Admissions Trail, Together
Alison Damast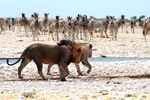 About four years ago, a group of admissions directors from the Yale School of Management, the University of Virginia's Darden School of Business, and University of Michigan's Ross School of Business brainstormed at a retreat on how they could work together on marketing and operations during a time when many schools were facing tighter recruiting budgets.
They soon realized they could do more than share best practices together, a moment that led to the creation of the "S7″ partnership, a group of seven top-ranked business schools that have joined forces to do joint recruiting in key markets in the U.S. and abroad. In addition to Yale, Darden, and Ross, the University of California, Berkeley's Haas School of Business, New York University's Stern School of Business, Duke University's Fuqua School of Business, and the Johnson Graduate School of Management at Cornell University are S7 group members.
For many of the schools, the events have replaced more expensive, solo events the schools used to do on their own in smaller U.S. cities and other countries. In some cases, it has eliminated the need for schools to travel with larger MBA admissions fairs like the MBA Tour and the QS World MBA Tour, admissions officers said. Events are held only if at least three or four of the seven schools can participate. Each of the seven schools is responsible for organizing and paying for one of the seven "mini legs" of the tour, making it relatively inexpensive for schools to hit a large number of cities in a three- to four-month time span, said Bruce Delmonico, director of admissions at the Yale School of Management.
"The cost structure was attractive, especially after the economic downturn when all of us had more constraints on us in terms of our operating budgets," Delmonico said. "We realized we could operate these joint events for one-tenth to one-twentieth of the cost to do it on our own."
The schools started doing joint recruiting events in 11 midsize U.S. cities, and Europe about three years ago, and this year the group's schedule includes 26 events, the largest number the group has ever done, admissions directors said. In addition to their usual stops, the admissions teams will be visiting countries in South America and the Middle East for the first time this year, and have added new stops in Salt Lake City and Toronto. In the last two years, the group has also developed specific events geared toward women applicants.
The collaboration has resulted in smoother scheduling when on the road. The schools in the S7 group tend to compete for a similar pool of business school applicants, and, as a result, used to clash over dates and times for independent school admissions events when visiting smaller cities during the hectic fall recruiting season, said Darden's Director of Admissions Sara Neher. Now students interested in these schools don't have to attend seven separate events, but instead can meet admissions representatives from several of the S7 schools in one gathering, Neher said.
In many cases, that means increased attendance at events in markets where candidates may not be quite as familiar with each individual business school. For example, Darden hosted an event in Lima last year, but only attracted a small number of potential applicants, Neher said. This summer, the S7 group visited there this August, and 170 people showed up to learn more about the five S7 schools in attendance, including Darden. "That's about nine times more people than we got when we went to Lima last year by ourselves," Neher said. "It was more exciting to the applicants because we came together as a group of very good business schools from the U.S."
Another benefit? The S7 schools are seeing an uptick in applications from the cities they visit, said Christine Sneva, director of admissions and financial aid at the Johnson School.
"Between these schools, we see applicants applying to at least one to three of us, so we believe it is valuable for MBA candidates to see and hear us together to identify differentiators between the schools that are personal to the applicant," Sneva said in an e-mail.
For some schools, that has helped increase their overall application pool, in a year when many have seen applications dip. For example, applications were up nearly 15 percent this year at the Johnson School and 9 percent at Darden.
Isser Gallogly, assistant dean of MBA admissions at the Stern School in New York, said the partnership has proved valuable because it allows the school to annually visit cities it used to pass through only occasionally, including Seattle, Phoenix, Salt Lake City, and Minneapolis. Said Gallogly: "I think it really does help reach a broader audience in some markets that typically feel a little underserved."
Before it's here, it's on the Bloomberg Terminal.
LEARN MORE