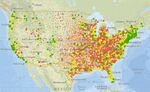 According to the rule books, same-sex marriage is mostly unacceptable in the U.S. But that's not the case when looking at the opinions of the American people. According to a new set of maps from Esri, same-sex marriage is popular in large swaths of the country.
The maps break support for same-sex marriage down by county. Green and yellow dots represent counties where people support same-sex marriage, while orange and red dots represent places where people do not. As you can see, there's no consensus across the country.

There isn't actually much hard data on how different parts of the country feel about same-sex marriage. But, as the site explains, there's a way to develop a proxy for figuring out whether a place would be more supportive or not.
Recently, voters passed California's Proposition 8 and North Carolina's Amendment 1, which forbid same-sex marriage. Using the voting results of these two pieces of legislation, Esri analyzed the demographic and consumer data of these voters to identify the geographic views of same-sex marriage. The results were then summarized using Esri's Tapestry market segmentation system to extrapolate an acceptance index across the country.
This map shows general sentiment towards same-sex marriage at the state level based on an analysis of tweets from May and June 2012. Dark and light green represent very positive and positive sentiments toward same-sex marriage, while yellow and red represent negative and very negative sentiments.

The granularity of these maps give a much more detailed picture of how the country approaches the concept of same-sex marriage, especially when compared to the official state rules on the subject. As this map shows,  same-sex marriage only has a small toehold in terms of state laws. The states in red forbid same-sex marriage, the states in green allow it, and the states in yellow have a vote or court action pending.
Overall, there seems to be a lot of support for same-sex marriage in many parts of the U.S, including its most populated areas. But Twitter posts and general opinions don't make the laws in this country. Until those laws are changed, the disconnect between what people want and what they get will remain.
Maps courtesy Esri