A Federal Reserve Dove Emerges in Michigan Speech
Kocherlakota changes his feathers
By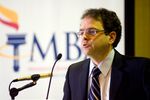 It's probably the most important speech ever given at Gogebic Community College. One of the Federal Reserve's presumed hawks, Minneapolis Fed President Narayana Kocherlakota, revealed an extremely dovish side in a speech on Sept. 20 at the Ironwood, Mich., school.
Kocherlakota, who was viewed as fearing inflation more than unemployment, had been saying until now that the Fed might need to start raising interest rates as soon as this year to keep the economy from overheating. But at Gogebic, he said that the fight against high unemployment might require the central bank to keep inflation close to zero for four years. He said that as long as inflation doesn't go above 2.25 percent, the Fed "should keep the fed funds rate extraordinarily low until the unemployment rate has fallen below 5.5 percent."
Why does this matter? Two reasons. First, it increases the odds that the Federal Reserve will keep monetary conditions extremely easy for several years to come. Kocherlakota won't be a voting member of the Federal Open Market Committee until 2014, but he participates in discussions at rate-setting meetings. His newfound dovishness will shift the center of gravity toward the doves—an important factor for Federal Reserve Chairman Ben Bernanke, who tries to operate with as much consensus as possible.
The second reason is subtler but in some ways more interesting. It's the gratifying revelation that real thinking and real learning go on inside the Federal Open Market Committee. Kocherlakota is a smart man who entered Princeton University at age 15 and went on to earn a PhD in economics from the University of Chicago. But he's not afraid to pay attention and learn from others.
In his prepared remarks for the Gogebic speech, Kocherlakota said his new thinking had been "greatly influenced" by Chicago Fed President Charles Evans, who has emerged as the most notable dove among the 12 regional Fed presidents. Said Kocherlakota: "This is perhaps hardly surprising, since he sits next to me at every FOMC meeting."
Kocherlakota went on to say, according to his prepared remarks: "My building on President Evans's creative proposal in this fashion is, I think, indicative of how the Federal Open Market Committee operates. The making of monetary policy under Chairman Ben Bernanke's leadership is a distinctly collaborative process. Obviously, we don't always agree with one another. It would be surprising if we did in such unusual economic conditions. But we learn continually from each other's points of view. In that way, I believe that we can start to make progress on the challenging economic problems we face."
Whether you're a dove or a hawk, it's nice to see evidence of genuine give-and-take going on in these deliberations. The fate of the U.S. economy hangs in part on what the FOMC decides.
Before it's here, it's on the Bloomberg Terminal.
LEARN MORE