When Moms Who Run Businesses Take Maternity Leave
By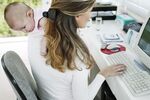 Kristen McAlister has moved up hiring timelines, increased administrative support, and written reams of instructions for her nine employees at Cerius Interim Executive Solutions, the staffing company she co-owns. Despite all the preparation, she worries how the Irvine (Calif.) business will fare when she gives birth in late December.
"I will still need to look at the finances every week, look at payroll, and be on the phone for conference calls" while on maternity leave, says McAlister, who purchased Cerius 18 months ago and says it now handles more than 800 executives. While she can work from home, the expanding business requires her to travel frequently. "I've wanted this child more than anything, but I also wanted my business more than anything," she says. "My biggest fear is that I'm going to have to choose between the two."
In July, incoming Yahoo! Chief Executive Officer Marissa Mayer, who is due with her first child in October, triggered a flood of commentary on the prickly subject of balancing work and family when she explained her maternity leave plan to Fortune: "My maternity leave will be a few weeks long, and I'll work throughout it." (Most female employees in the U.S. are guaranteed as many as 12 weeks of unpaid maternity leave under the federal Family and Medical Leave Act.) Much less broadcast is the reality for business owners, who must improvise, catching a few days or weeks away and continuing to connect with the business from home while sleep-deprived and still recovering.
While an October 2010 U.S. Department of Commerce report (PDF) showed that the number of women-owned businesses in the U.S. is growing twice as fast as businesses owned by men, how U.S. female entrepreneurs manage their time after they give birth does not appear to have been studied comprehensively, says Donna Kelley, an associate professor of entrepreneurship at Babson College and lead author of the most recent Global Entrepreneurship Monitor Women's Report (PDF). A handful of European studies have concluded that the generous maternity leave benefits standard there tend to discourage women from entrepreneurship, she says.
The Commerce report shows that women who are self-employed are older and less likely to have children at home than non-self-employed women. Many still strive to accommodate work-family balance for their employees: An economic impact survey conducted last month by the Women President's Organization, a group of 1,600 female presidents of companies with more $1 million in revenue, shows that 54 percent provide flextime and 31 percent allow telecommuting.
Even with the flexibility, however, few women entrepreneurs appear to give themselves the luxury of three-month maternity leaves. "Truly, as a small business owner, I can't imagine ever taking a 'real' maternity leave," Amelia Jeffers, president of Garth's Auctions in Delaware, Ohio, writes in an e-mail. "When you are dedicated to a team of people who rely on you for a paycheck, you simply cannot in good conscience leave your post completely." Jeffers has four children, and each time she gave birth, she took calls from the hospital and handled deadlines, customer issues, and employee reviews shortly after returning home.
Today's female business owners are expert multitaskers who take pregnancy and newborns in stride, planning ahead just as a man would if he needed a medical procedure, says Cynthia Good, CEO of Little Pink Book, an online community for female entrepreneurs and professional women. "We're living in a totally different era, where women who are very ambitious look at the idea that a woman wouldn't be able to perform because she's pregnant as crazy," Good says. "Being the mother of a newborn is not going to limit her intellectual or leadership capacity in any way."
Robin Wilson, president and CEO of Robin Wilson Home, a design company based in New York City, is expecting in less than a month. In order to get ready, she has designated a point person on her team to handle client inquiries and certain decisions. She has also anticipated the company's cash flow needs, written instructions for managers, and automated payroll. Wilson plans to inform top clients that she's taking maternity leave. "Communicate with your clients that nothing stops or changes just because you are on leave, and introduce your designated point person to handle opportunities while you are away," she advises in an e-mail.
Female bosses often feel they must prove they are just as tough as their male colleagues, says Bettina Hein, a serial technology entrepreneur who founded software company Pixability in Cambridge, Mass., in 2008. She wrote a detailed plan for her maternity leave that she shared with her board of directors and investors before her daughter, Louisa, was born 18 months ago.
But reality intervened when the baby came six weeks early via C-section; she had just closed a financing round but did not have child-care arrangements made. "Even though I thought I was so macho and could do it all, I didn't quite realize that it takes weeks to feel on top of things physiologically," Hein says. She spent six weeks at home recovering from surgery and caring for Louisa, though she was never completely out of touch with her team.
Life also surprised Laura Zander when her son, Huck, was born in 2009. The founder of $7 million JimmyBeansWool.com, a fabric and yarn business based in Reno, Nev., figured she and her husband would work from home after Huck was born. "We had so many friends that had told us, 'You should be able to have a baby and go back to work the next day since the baby will sit there and sleep all day.'"
Instead, her baby turned out to have "a very spirited temperament," which meant he cried nonstop and needed constant attention. Neither she nor her husband could get anything else done. "In hindsight, we should have had an au pair live with us and help us out since we had no family around. We tried to work, but we were not prepared at all," Zander recalls. She worried that her company would suffer, but the opposite happened. "Our business's growth rate exploded once Huck was born," she says. "I suppose it's because I finally let go of my chokehold and stopped trying to do everything myself. I was finally forced to let go and transition tasks to other people on our team."
Pixability's Hein says having to admit that she couldn't make every decision helped her company, too. "If I've only slept three or four hours at night, I let people know," she says. "As a woman in technology, you're used to charging into the unknown and being a fearless leader, but there are moments when you're not capable of doing that because you're a zombie. That's when you learn to trust your team to make decisions. Now I'm happy to have people take stuff off my plate; there's no power struggle there."
Before it's here, it's on the Bloomberg Terminal.
LEARN MORE