MBA Alumni in the News: Sept. 20
Louis Lavelle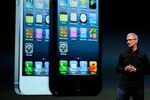 Each week Bloomberg Businessweek brings you an update on how MBA alumni from top business schools are making news—the good, the bad, and the ugly. This week, graduates from Harvard, Duke, Chicago, and NYU were among those making headlines.
The Supermodel of Cell Phones: Apple Chief Executive Tim Cook, an MBA graduate from Duke University's Fuqua School of Business, unveiled the new iPhone 5. The new phone is taller and thinner than previous versions.
A Deal for the Deal: The Street, with Harvard Business School MBA graduate Elisabeth Demarse at the helm, bought the mergers and acquisitions news service, the Deal, for $5.8 million. The restructuring will include the termination of an unspecified number of Deal employees.
MBA Takes Own Life: Veritas Capital founder Robert McKeon, a Harvard Business School MBA, died Sept. 10 at his home in Darien, Conn. The death was ruled a suicide by the office of Connecticut's chief medical examiner. McKeon was 58.
Welcome Aboard: Janus Capital Group added three analysts to its fixed-income team, including two MBAs: Craig Klein and Jason Brooks. Klein is an alumnus of the University of Michigan Ross School of Business; Brooks is a graduate of the Fordham Graduate School of Business Administration.
Moving Up: The interim chief executive of Omnicare since June, John Workman was named the company's permanent CEO. He has an MBA from the University of Chicago Booth School of Business. As of Sept. 14, the board at Visteon was said to be considering naming its interim chief, Tim Leuliette, an MBA graduate from Michigan's Ross School, to the company's top spot permanently. General Electric named Canan Ozsoy, a Bosphorus University MBA, chief executive of its Turkish operations.
Moving Out: In a management shake-up, Thomas McDonald, the chief strategic officer at Equity International and a Booth MBA, appears to have left the company. His name no longer appears in the leadership section of the company's website. The head of the financial services group at the New York Federal Reserve Bank, Carl Turnipseed, is retiring in January. He got his MBA from New York University's Stern School of Business.
Join the discussion on the Bloomberg Businessweek Business School Forum, visit us on Facebook, and follow @BWbschools on Twitter.
Before it's here, it's on the Bloomberg Terminal.
LEARN MORE