Hey, Warren Buffett. There's Another Bill in Congress Named for You
By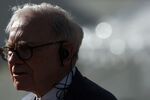 Few policies offered by President Obama have caught on faster with the public than the so-called Buffett Rule, the proposal that would set a minimum effective tax rate of 30 percent for households with income of $2 million or more. Tell people that you think billionaire investor Warren Buffett shouldn't be paying a lower tax rate than his secretary, and you've got their attention.
When the debate over the Buffett Rule raged this past spring, the GOP likened it to class warfare. Yet on Wednesday, House Republicans passed their own Buffett Rule Act of 2012. The bill makes it easier for people who want to help pay down the national debt to make voluntary contributions to the IRS when they submit their tax returns. "If Warren Buffett wants to give," Republican Representative Dave Camp (Mich.) told my Bloomberg News colleagues Timothy Homan and Megan Hughes, the bill "allows him to give to his heart's content."
The legislation, according to the Joint Committee on Taxation, would actually hardly make a dent in the debt—adding a scant $135 million to the government's coffers through 2022. (By comparison, Obama's proposal would boost revenue by $47 billion in the same time period.) Plus, Americans can already contribute to debt reduction, either online or by credit card or check.
Not surprisingly, Democrats decried the Republicans' attempt to hijack their catchphrase as a gimmicky political play meant to confuse the public. "Once again, Republicans are wasting time on legislation that won't accomplish anything, while they continue to protect the wealthy at all costs," Maryland Congressman Steny Hoyer said. "This isn't actually the Buffett Rule."
Congress is going home on Friday until after Election Day—having made no progress on the debt crisis.
Before it's here, it's on the Bloomberg Terminal.
LEARN MORE